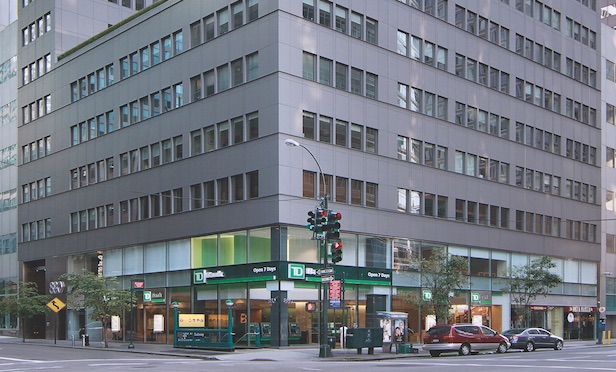 NEW YORK CITY—WeWork signed a 15-year lease at Jack Resnick & Sons' 18-story Plaza District office tower. Asking rents at the property are in the $65 per square foot range.
"We continue to see exceptional demand for WeWork in Midtown Manhattan," Granit Gjonbalaj, chief development officer at WeWork, tells GlobeSt.com. "Having already built a substantial footprint in the area, we are delighted to be able to offer businesses of all shapes and sizes even more space in this bustling part of the city, with the signing of a lease for 70,000 square feet at 880 Third Ave."
Under the 15-year lease, WeWork will rent 69,679 square feet across seven floors, five through six, and nine through 13. This includes two outdoor terraces on the 12th floor.
The lease brings the 18-story Resnick building at Third Avenue and E. 53rd Street to full occupancy.
Other tenants include the Trustees of Columbia University, Culbro LLC, Kempen & Co., USA, QS Investors, Jaffe Ross & Light, and Fisher Harris Shapiro, and retail businesses, TD Bank, Gregorys Coffee and Pret A Manger.
With 56 locations totaling 4.1 million square feet, WeWork is the second largest private occupiers of office space, and the largest flexible office space provider in New York City. Also in the Plaza District, WeWork attracted headlines in January when it leased seven full floors, totaling 115,000 square feet, at 750 Lexington Ave. from Cohen Brothers Realty Corp. The co-working space mega-company also leases 125,000 square feet, spanning nine floors at Cohen Brothers' 135 E. 57th St., among its seven Midtown East locations. It lists 14 locations in all of Midtown including Times Square.
Over in Brooklyn, WeWork created a splash arranging to be the anchor tenant, leasing 225,000 square feet at Dock 72, which is still under construction.
Built in 1962, the 18-story building at 880 Third Ave. was renovated in 2009. The capital improvements included a double-height stone and glass lobby, two-story retail storefronts, new windows, a new aluminum curtain wall, an updated cooling tower, modernized elevators and the addition of contemporary artwork by Lydia Donna.
Jack Resnick & Sons was represented by an in-house leasing team of Brett Greenberg and Fran Delgorio, an in-house legal team of Kalpana Gajjar and Thomas Ruggiero, and Meyer Last of Fried, Frank, Harris, Shriver & Jacobson LLP.
WeWork was represented by Savills Studley's Ken Ruderman and Andrew Zang, in-house leasing agent David Sadkin, and in-house general counsel Mathew Brandt, along with a Kasowitz, Benson Torres, LLP legal team led by Adam M. Endick and Steven J. Shafer.