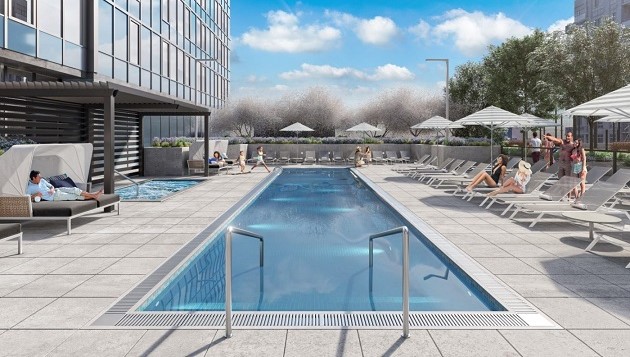 CHICAGO—Despite worries about overbuilding, the market for downtown apartments, fueled by a constant stream of residents new to the city, has shown a great deal of strength so far in 2018. According to Laura Ballou, senior associate-market analytics with KIG, tenants absorbed a record-breaking 3,509 apartments in 2017, and in just the first six months of 2018 took another 2,560.
"Leasing is as strong as ever," Ballou tells GlobeSt.com, and tenants within the core downtown submarkets look set to break another record for absorption this year. The negative news about Chicago, whether about political in-fighting or violence in the neighborhoods, tends to show up on the national radar. Meanwhile, the urban core continues to attract new businesses, and the residents that inevitably follow, proving "our downtown is a strong place to live and invest."
"I've heard from multiple management companies," she adds, that roughly 30% of the incoming downtown renters are first-time Chicago residents.
That pipeline of tenants has helped sooth worries among developers and investors that too many units were coming online. Of the units completed in 2017, tenants already occupy 78%, as well as 39% of this year's new units, Ballou says. And no area of the downtown has put up better numbers than River North.
LMC completed River North's 176-unit Marlowe community in June, and by the end of the month, 30% of the apartments were leased. And Onni Group completed the first phase of its Old Town Park, which has 405 luxury units. "Their team hit a home run," Ballou says. It was 60% pre-leased on opening day and 40% occupied within 30 days.
"River North has definitely exceeded my expectations," Ballou adds. Since January 1, 2017, 31% of all new units delivered were in this submarket, but it accounted for 41% of all absorption.
All this good news could help set the stage for significant investments. In 2017, five or six buildings were on the market but did not trade, Ballou says. Furthermore, some potential sellers have in the recent past decided to take advantage of low interest rates and refinance their properties rather than sell.
But the recent interest rate hikes, along with further expected increases, will make owners more likely to consider selling newly-leased up properties. Furthermore, "I think sellers' and buyers' expectations are now better aligned than they were last year," she says.