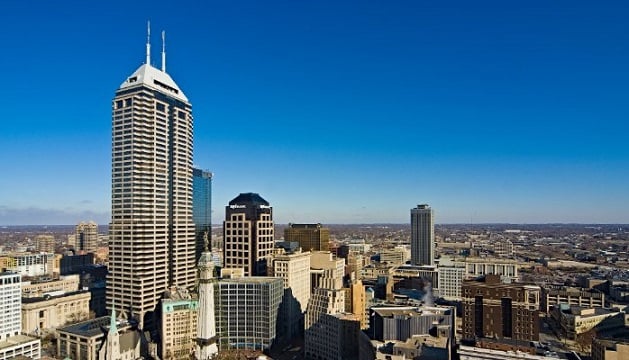 INDIANAPOLIS—This city and its suburbs has gained national prominence as a warehouse and distribution center, but the office market is also robust and able to attract top corporations.
In the second quarter, the region's vacancy rate did increase slightly to 15.9%, but after years of stagnation rental rates have finally hit record levels, according to a new report from Colliers International. Year-to-date direct net absorption ended the quarter just below 100,000 square feet, a significant boost year-over-year. Most importantly, leasing activity reached 1.2 million square feet in the latest quarter, a 77% increase over last year.
Colliers takes that as a sign that the revival of the office market has legs. And both the CBD and the suburbs are taking part.
"The downtown Indianapolis office market had been on a tear in this economic cycle, both in terms of rent and occupancy growth," the company says. The owners of class A buildings, for example, successfully pushed up their rents by 4.2% in the last year.
The slight increase in vacancy was primarily caused by one large corporate move. Angie's List, under new ownership, shifted operations from Landmark Center, to a smaller space at 130 East. Benesch, Friedlander, Coplan & Aronoff also closed in OneAmerica Tower on the other side of downtown. Both vacancies can be described as a hiccup as the CBD's occupancy has grown 120 bps since the second quarter of 2017.
The north suburbs also had an excellent second quarter. "In highly coveted office parks, landlords are pushing rents to figures that were until recently only quoted in new construction projects," Colliers says.