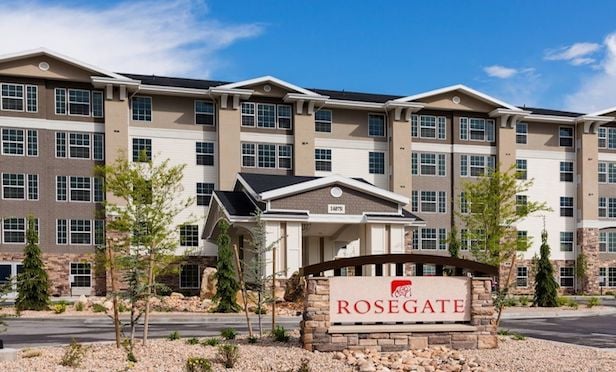 DRAPER, UT—Kennedy Wilson has purchased a 277-unit age-restricted multifamily property here for $51.35 million, Globest.com has exclusively learned.
The latest acquisition by the Beverly Hills, CA-based real estate investment company was brokered by commercial brokerage firm Marcus & Millichap. Kennedy Wilson's latest purchase is Rosegate Draper in Draper. The deal calculates out to $185,379 per unit.
"Age-restricted and seniors housing properties are much needed in Utah due to the limited number of these assets currently in the state," says Danny Shin, SVP investments in Marcus & Millichap's Salt Lake City office. "Rosegate Draper is considered one of the premier 55-plus communities available to seniors, and its ample amenities showcase the best of living in Salt Lake Valley."
Marcus & Millichap's Shin and Brock Zylstra, a VP investments, represented the seller, a local developer and owner, and procured the buyer, Kennedy Wilson, whose total portfolio currently includes six multifamily properties in Utah and more than $16 billion in total assets.
"It is a great time for real estate investors to look at age-restricted and seniors housing assets as sustainable investment ventures," adds Phil Brierley, regional manager of Marcus & Millichap's Salt Lake City office.
Built in 2015, Rosegate Draper is located at 14075 S. Bangerter Parkway, about 20 miles south of Salt Lake City. The five-story community features one- and two-bedroom units and offers space for full-service facilities including an off-street drop-off/pick-up area, onsite café and salon.
Earlier this month, Kennedy Wilson named Mary Ricks as president of the global real estate investment company. Ricks took over the newly created position after serving as president of president and CEO of Kennedy Wilson Europe, a business she helped establish in 2011.