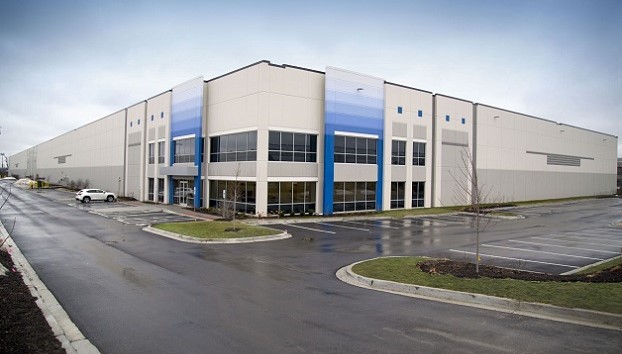 CHICAGO—Chicago's industrial boom has reached maturity, and some developers have shifted from big box construction to mid-sized buildings to meet robust demand from tenants that need less space.
According to Avison Young research, Chicago's industrial tenants continue to lease space at a fast pace, with 330 leases completed in the second quarter totaling 9.9 million square feet. This represents a 32.3% increase from the first three months of the year when 273 leases were completed totaling 7.5 million square feet. And the company's research shows small and mid-size tenants, those typically ranging from 25,000 to 100,000 square feet, fuel the market. In the second quarter, for example, the average industrial deal size was 32,970 square feet, up from 23,435 square feet in the first.
"While Amazon and other e-commerce related big box users are a significant driver of industrial activity, they are just one subset of the overall industrial market," says Chris Tecu, a principal in Avison Young's Chicago office. "The bulk of industrial leasing activity across the Chicago market comes from tenants who need less than 100,000 square feet of space. Developers are realizing that there is a lot of depth in the mid-sized users category and those companies will continue to drive leasing and construction activity in the future."
The Chicago market has a steady supply of new construction — with about five million square feet delivered in the second quarter and 10.2 million square feet under construction — following several quarters of heavy construction volume, particularly in the I-80 submarket. Developers completed three properties of over one million square feet in that submarket during the quarter, including one build-to-suit and two speculative buildings.
According to Avison Young research, builders have 58 buildings under construction; 26 of those are between 50,000 and 250,000 square feet, or 44% of the pipeline. The average building size of all those under construction is 245,402 square feet.
Recent deliveries and new development offerings underscore this market trend. The market share for the total number of leases and the amount of space leased under 500,000 square feet continues to favor small to mid-size companies, those with requirements range in size from 25,000 to 99,999 sf and those from 100,000 to 299,999 sf. An analysis of activity from 2015 to 2017 shows that the number of transactions in the 25,000 to 99,999 sf range has increased each year. In 2015, 70.2 percent of all transactions under 500,000-sf were in the 25,000 to 99,999-sf size range; followed by 71.3 and 72.8 percent, respectively.
Additionally, through the first half of 2018, the market share for leases in the 25,000 to 99,999 sf range increased further, to 73.5 percent. In contrast, the percentage of leases ranging from 300,000 to 499,999 sf has been more volatile, ranging from 2.4 percent to 5.4 percent.
One example of the development cycle moving to mid-sized buildings is a 65-acre site in Joliet, IL, being marketed by Tecu and Avison Young Principal Christopher Lydon, also in the Chicago office. The site can support up to 900,000-sf in multiple buildings. "We continue to see developers focus on the Chicago industrial market, and the I-80 corridor in particular, due to the strong market fundamentals and demand for modern space that can support distribution and warehouse needs," Tecu said.