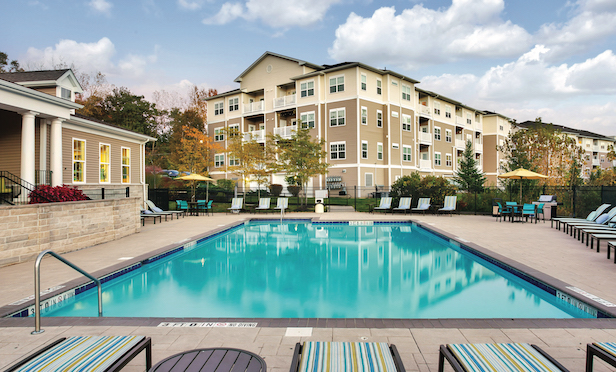 DANBURY, CT—An affiliate of Harbor Group International, LLC has sold the Crown Point Apartments complex here in a deal valued at $108.5 million.
Brokerage firm CBRE reported the sale of the 466-unit property at 50 Saw Mill Road that was built in two phases (2007 and 2011). The identity of the buyer was not disclosed.
The CBRE team of Jeffrey Dunne, Gene Pride and Eric Apfel represented the Harbor Group International affiliate in the sale and also procured the buyer. Harbor Group is headquartered in Norfolk, VA.
"Crown Point is an exceptional asset with a strong history of rental growth due to HGI's efficient, hands-on management. The Danbury market has had a history of strong occupancy, even with the more than 800 new apartments that were delivered over the past three years," says Dunne, vice chairman, capital markets, institutional properties for CBRE. "The buyer can build on this solid base of high occupancy and attentive management by modernizing apartment interiors and generating additional revenue, as renters in Fairfield County typically pay a premium for updated interiors."
CBRE officials note the property is near a diverse mix of retail, such as Trader Joe's and Starbucks, as well as employment, recreation and entertainment centers in northern Fairfield County. They add that Crown Point Apartments offers a "value-add opportunity" for the new owner, as all of the apartments at the property have original finishes that can be upgraded in order to generate additional rents.
Harbor Group International has been very busy on the acquisition side of the business recently. In June, the firm acquired the 243-unit Jefferson Lighthouse Place apartment community in Pompano Beach, FL for $55 million from a partnership of the Jefferson Apartment Group of McLean, VA and Starwood Asset Management, which is based in Atlanta.
Also in June, Harbor Group acquired the Sussex at Kingstowne, a 556-unit garden apartment property in Fairfax, VA for $144 million.
In July, Harbor Group and ZC Ronogil acquired the Relay Building, a 22-story, mixed use tower in London for $120 million.