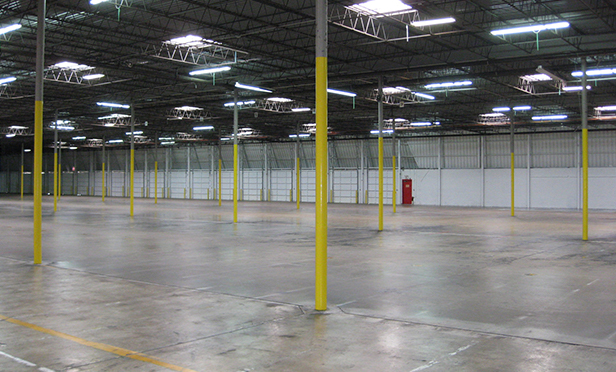 MORROW,GA—Woodmont Industrial Partners has completed capital improvements at Mt. Zion Industrial Center, the company's 519,521-square-foot distribution center at 1791 Mount Zion Road in Morrow, GA. Located within the Atlanta South submarket, Mt. Zion Industrial Center is among the better-situated distribution centers in the Atlanta Metropolitan Area.
Significant upgrades to the property include new dock equipment, life safety system improvements, interior and exterior refinishing and new landscaping. NAI Brannen Goddard is representing WIP as the exclusive leasing agent for Mt. Zion Industrial Center, which currently has 265,163 square feet of space available.
"The completion of capital improvements at Mt. Zion Industrial Center is part of our strategy to bring the best product to the market in this great location," says Eric Witmondt, principal of Woodmont Industrial Partners. "As population growth and e-commerce continue to fuel Atlanta's booming industrial market, this property is well-positioned to meet the demand for top quality space in this market."
With easy access to Interstate 75, Mt. Zion Industrial Center is 10 miles from the Hartsfield-Jackson Atlanta International Airport and less than 20 miles from Downtown Atlanta. The property features 72 dock-high doors, two drive-in doors, 22-foot clear heights, a 5-inch-thick floor and parking for 110 trailers, along with a new roof.
"The available space at Mt. Zion Industrial Center is in pristine condition and is move-in ready for any user in need of substantial industrial space to help grow their operations," says Jack Haden, partner of NAI Brannen Goddard. "Atlanta remains one of the top industrial markets in the country, and 1791 Mount Zion Road presents a great opportunity to capitalize on a recently upgraded space that is extremely well located."
As part of its strategic expansion plans, WIP acquired 1791 Mount Zion Road in February 2018. WIP has established a goal to acquire three million square feet of existing value-add opportunities and/or land for development within the next 12 months in major transportation corridors. Over the last three years, WIP has purchased and sold nearly four million square feet of industrial space strategically located in several intermodal markets.