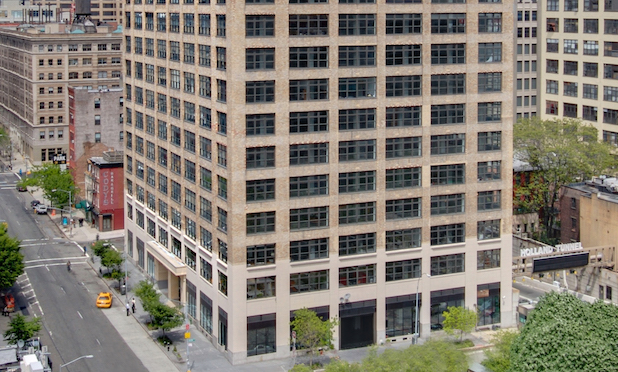 NEW YORK CITY—Knotel has signed an agreement to rent 19,563 square feet at 250 Hudson St. The flexible workspace provider will be on the third floor of the Jack Resnick & Sons building in Midtown South. The space will be open for business in December 2018. Asking rents were in the range of $80 per square foot.
Jonathan Resnick, president of Jack Resnick & Sons, says "250 Hudson St. has become a magnet for innovative and entrepreneurial firms." He credits his company's redevelopment work and the location for the building's success.
Major tenants include Daniel J. Edelman, Bed Bath & Beyond, Gluckman Tang Architects, Sopexa, Lieff Cabraser Heinmann & Bernstein and Writers Guild of America East. In addition, the advertising agency Mekanism signed a full-floor lease earlier in the summer and will relocate to the building in early 2019.
Knotel designs, builds and operates custom spaces for companies of 50 employees or more. It provides greater flexibility in its leasing terms than more traditional office leases.
Eugene Lee, Knotel's global head of real estate & business development, says the company is pleased to continue its rapid growth downtown working with the Resnick company. Founded in 2016, Knotel now has more than 70 locations across New York, San Francisco, London and Berlin.
Michael Morris and Greg DiGioia of Newmark Knight Frank represented the tenant in the leasing negotiations. Brett Greenberg and Adam Rappaport of Jack Resnick & Sons represented the owners in-house.
The only remaining availabilities in the 15-story, 400,000 square-foot property are a 5,500 square-foot pre-built space on the 7th floor, available December 1st, and a corner retail space that is available immediately.
Originally constructed in 1929, with renovations and updated systems, the building has both classic and contemporary designs. It features high ceilings, open floors, a limestone and marble lobby, and also LEED Gold and WiredSore Platinum certifications. The penthouse level has a 10,000 square-foot green roof with views of the Hudson River and the New York City skyline.