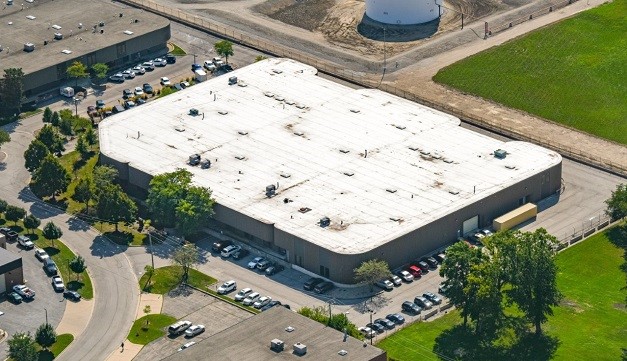 CHICAGO—There aren't many places left to build new industrial buildings around O'Hare International Airport, and with tenants of all kinds clamoring for space in the submarket many investors see it as a safe place to park their capital. And after a summer of brisk sales, another opportunity has just come up.
Avison Young recently was awarded the exclusive sale listing for a 211,254-square-foot industrial portfolio at 1900-2000 Carboy Dr. in Mount Prospect, IL, just north of the airport. The two-building multi-tenant portfolio is currently 90% leased.
"This portfolio offers investors a rare opportunity to gain entry into the strong O'Hare market with a well leased portfolio that provides stable long-term cash flow," says Avison Young principal Erik Foster. "The portfolio includes a diversified and entrenched tenant roster with staggered lease end dates to reduce expiration exposure."
Foster and Mike Wilson, based in the company's Chicago office and members of the firm's national industrial capital markets group, represent the owner, Chicago-based Brennan Investment Group.
According to research from Avison Young, there were 11 industrial investment sales in the O'Hare market totaling 909,195 square feet, with a transaction volume of $57 million, from July 1, 2018 to Aug. 31, 2018. This activity already outpaced the previous quarter which saw 10 transactions, representing 822,089 square feet, with a transactional volume of $49 million.
Leasing activity has also remained strong in the O'Hare market in the third quarter, with 43 leases signed, totaling 520,566 square feet, during the same time period. The overall vacancy rate sank to just 4.4%. On the development side, there have been two buildings delivered within the submarket, totaling 559,587 square feet. This already surpassed last quarter, which saw one building delivered that totaled 95,962 square feet
The Carboy Drive portfolio is located on 8.23 acres. Tenants in these two buildings benefit from proximity to Algonquin Rd., I-90, and the Union Pacific Rail Line. The property will also soon connect with the airport upon completion of the Elgin-O'Hare Expressway expansion.