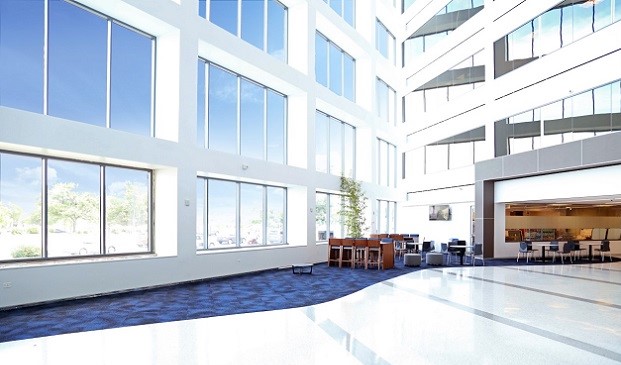 CHICAGO—Portions of the suburban office market have emerged from the doldrums, and many owners stand ready to take advantage of the opportunity. The owner of Mid America Plaza has almost completed a $10 million capital improvement project that has brought the 414,442 square foot class A complex in Oakbrook Terrace into the 21st Century.
"These buildings looked and felt like the 1980s," Fred Ishler, Avison Young principal, tells GlobeSt.com. But after ditching the brass ornamentations and other features, the interiors are now "clean, crisp, modern and bright." The renovation also reimagined the common areas, upgraded amenity spaces and made significant base building improvements throughout the property.
Avison Young has been awarded the exclusive leasing assignment for the two, 10-story buildings located on the northwest corner of Rte. 83 and 22nd St. Ishler and associate Olivia Parker, both based in the company's Chicago office and members of the firm's suburban agency leasing group, will direct property marketing and leasing efforts on behalf of the owner, Equus Investment Partnership, X, LP, a $361-million discretionary equity fund, managed by Equus Capital Partners Ltd.
"This is, without question, suburban Chicago's most iconic and best location," Ishler says, giving tenants quick access to I-88, I-290, I-294 and Rte. 53. "It's also on the east end of the East/West Corridor which is easily the best submarket in suburban Chicago."
And the buildings themselves give tenants "more of an urban space, the kind you see in downtown Chicago," he adds. The renovated atriums, fairly rare in the suburbs, now have three Wi-Fi lounges where tenants can go if they want to work outside their offices. A new fitness center also supports a healthier lifestyle. In addition, Equus modernized the elevator systems, made HVAC upgrades and added a new energy efficiency package featuring new window glazing, LED lighting and electric car charging stations in the covered parking garage. Other upgrades include an outdoor seating area surrounded by a newly landscaped patio with adaptive walkways and outdoor Wi-Fi access, as well as improved visitor parking and wayfinding, an updated deli and a sundry shop.
In addition to expanded food service, the complex also hosts one of Chicagoland's three Ditka's restaurants. "I would call this a destination restaurant," Ishler says, "and it really helps gives the plaza an identity." Tenants can take advantage of the restaurant's private meeting rooms as well as reserved, in-suite catering from the staff.
Avison Young's new leasing team, along with the existing managers from JLL and the owners, will co-host an open house later in the year. The event will feature tours of the updated common areas and the full-floor, 23,704-square-foot vacancy on the fourth floor of the property's north tower.
"The suburban buildings that attract investment have tended to outperform the market, and that's the expectation with Mid America Plaza," Ishler says. "By virtue of its location and the quality of the asset, this should be a top-performing building."