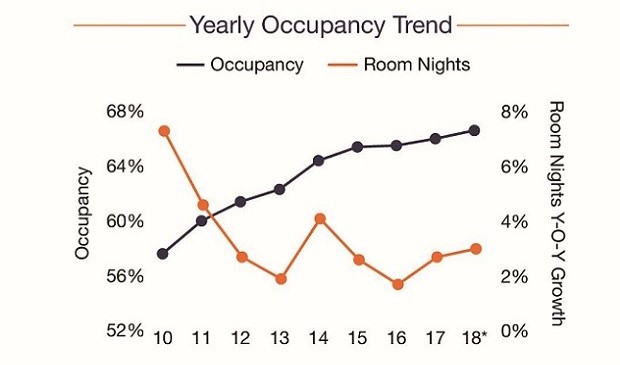 CHICAGO—When the US economy accelerates, business travel and tourism generally expands as well. That truism explains why experts express so much confidence in the hospitality sector. According to a new national report from Marcus & Millichap, strong employment growth and rising confidence levels will keep occupancy at a record high and support further RevPAR growth.
"Summer travel, in particular, is expected to rise 6% from last year and the majority of these trips will be to domestic destinations," according to the report. "Rising travel should reinforce hotel occupancy, which remains at a more than 30-year record high."
And although much of the sector's recent expansion has occurred in core markets, and especially in CBDs, "travelers are increasingly seeking hotels in suburban areas and smaller metros/towns," the researchers add. "Occupancy in both locations has picked up considerably in the past 12 months after holding relatively steady in the prior year."
Overall, strong demand during the previous 12 months boosted occupancy to 66.3% in June, M&M says. "Independent, luxury and midscale hotels led increases, with occupancy rates rising 80 bps in each segment. Luxury hotels had the highest occupancy overall at 74.6%."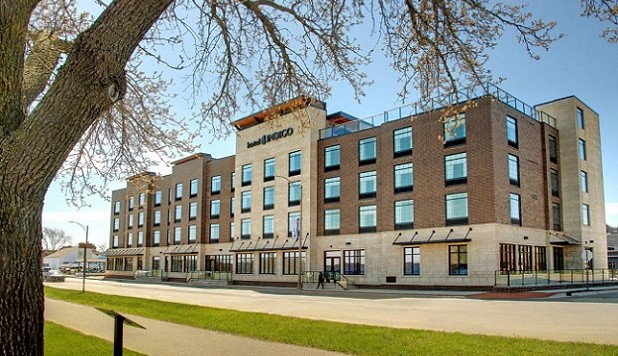 Resorts did even better. Occupancy in these hotels jumped 100 bps to 70.1% during the 12-month period ending in June. And FL resorts led the way, surging 200 bps during this time to 74.2%. "Occupancy in smaller metros and towns picked up notably during the past four quarters," the report says. "Here, occupancy advanced 90 bps during this time to 57.6% following a 20 bp increase in the prior year."
The rise in occupancy is fueling growth in ADR and RevPAR. The average daily rate climbed 2.3% during the past 12 months to $128.33 while RevPAR rose 3.3% during this same time to $85.05. ADR and RevPAR increased 2.7% and 3.1%, respectively, in the prior year.
During the year ending in June, ADR and RevPAR in suburban hotels rose at a faster pace than its urban counterparts. In the suburbs, ADR and RevPAR climbed 2.4% and 3.2%, respectively, while ADR in urban areas edged up 1.4% and RevPAR advanced 1.9%.
That overall picture of health has driven investors' appetite for hotels, and M&M believes this appetite will only grow stronger. Through the end of the second quarter, transaction velocity nationwide picked up 4% from last year. This intense competition, along with rising revenues, pushed up values 6.8% to $107,700 per room on average. Buyers were particularly interested in upper upscale and upscale hotel properties during the past year, with the number of sales rising roughly 26% and 17%, respectively. And top brands such as Marriott and Hilton flags were especially popular.