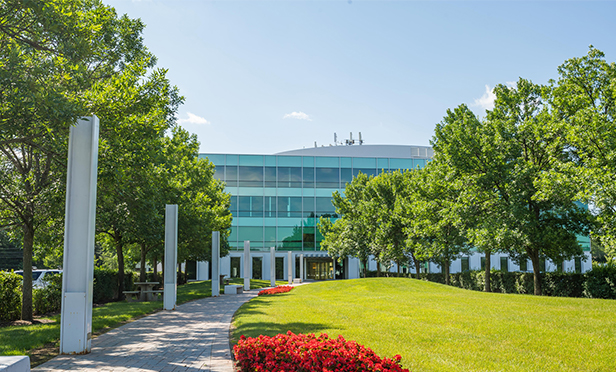 BLOOMFIELD, NJ—Cushman & Wakefield has been named the exclusive leasing agent for P3 Properties' BroadAcres Office Park in Bloomfield, NJ. The appointment comes at a time when occupancy has risen more than 13 percent at the high-profile, 393,000-square-foot office campus, according to its owners.
P3 Properties acquired the four-building complex last year. Harvey Rosenblatt, P3 founder, credits this momentum to competitive lease terms and significant property upgrades.
"Simply put, we are successfully leveraging the potential we saw from the outset at BroadAcres," says Rosenblatt. "We are working hard to create an affordable, attractive environment with amenities that today's tenants want. We are pleased to welcome Cushman & Wakefield to the team as I know they will help us take BroadAcres to the next level."
Cushman & Wakefield's managing director Ben Brenner and associate MariaGrace Iantosca are heading the BroadAcres Office Park leasing assignment. "BroadAcres enjoys a storied reputation as a preferred destination for sophisticated corporate users seeking accessibility, a distinct identity and aggressive business terms," Brenner says. "Our team at Cushman & Wakefield is thrilled to be partnering with P3 Properties to build upon that history and finalize the lease-up of the complex." This is Cushman & Wakefield's first agency leasing assignment with P3 Properties in New Jersey.
Since acquiring the asset, P3 Properties has introduced a full-service fitness center, new campus signage, resurfaced parking lots and an updated exterior lighting program, with ongoing common area enhancements and additional amenities planned. The 20-acre property sits along the Garden State Parkway between exits 151 and 153. Tenants enjoy multiple onsite food service options and available conference space. Walkable neighborhood amenities include a grocery store, restaurants and retail, as well as NJ Transit rail and bus service.
The Cushman & Wakefield team is marketing units of availability that range from 1,000 square feet to a full floor of 26,000 square feet at the property, which includes tenants like Randa Luggage, Dewberry Engineers, Munzing and Reverse Mortgage Funding.