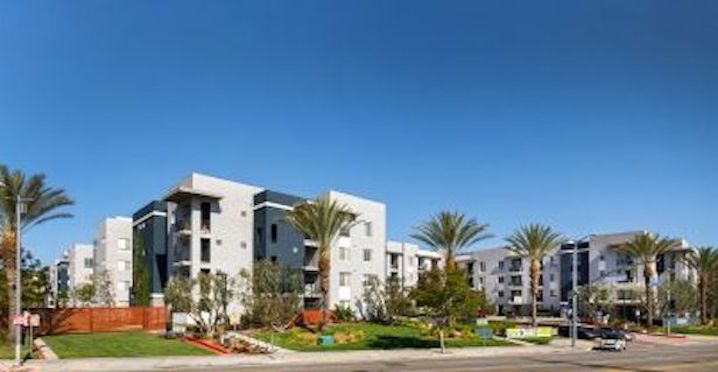 LOS ANGELES—MG Properties Group has added the 264-unit Carillon Apartment Homes multifamily development to its growing portfolio.
The San Diego-based real estate owner and operator acquired the 235,214-square-foot property in the Warner Center/Woodland Hills area of Los Angeles for $93 million from Fairfield Warner LLC. The transaction, which was reported by brokerage firm Institutional Property Advisors and calculated out to approximately $352,272 per unit.
Greg Harris, Ron Harris, IPA executive director, and IPA senior directors Kevin Green and Joseph Grabiec represented the seller, Fairfield Warner LLC, which was also represented by San Diego-based Fairfield Residential, and procured the buyer, MG Properties Group. IPA is a division of Marcus & Millichap.
"Warner Center/Woodland Hills is one of Southern California's premier multifamily investment markets," says Harris. "Single-family home values have risen more than 60% over the last five years to $850,000, creating a significant affordability gap between owning and renting."
Carillon Apartment Homes was constructed in 2008 on more than five acres. Warner Center/Woodland Hills is one of the largest communities in the western part of the San Fernando Valley, occupying an area of about 15-square-miles that borders Calabasas and the Santa Monica mountains. The area provides easy access to employment centers in Ventura County, San Fernando Valley, West Los Angeles, and Downtown Los Angeles.
Earlier this year, MG Properties Group acquired the 312-unit North Pointe Apartments in Vacaville, CA, 30 miles south of Sacramento that was financed by a $55.9-million Freddie Mac mortgage.
MG Properties Group announced at the time of the deal in March that it had purchased 11 properties in the previous 12 months. The acquisitions total more than $874 million in purchase price and 4,050 units. The company said it is targeting further acquisitions in Washington, Oregon, Arizona, California, Colorado, and Nevada.