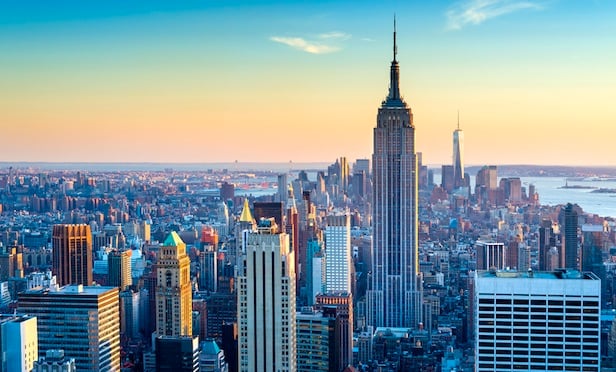 NEW YORK CITY—Office leasing activity in the third quarter of this year rose more than 10% and reached the highest volume in the last four years. The strong overall commercial office market in Manhattan led to a new quarterly record price per-square-foot at nearly $75.86.
Third quarter leasing activity was 25.4% above Manhattan's five-year historical average and a sizable 48.5% above its 10-year average, according to a report released by commercial brokerage firm Colliers International.
Leasing improved by 20.1% from the third quarter of 2017. The FIRE (financial services, insurance and real estate) sector registered a 53% market share in the third quarter of 2018.
A deeper dive into the third quarter stats shows that co-working firms are a definite force in the market, accounting for slightly more than one-fourth of all FIRE tenant deals (15% of Manhattan's total leasing volume) in the third quarter. Leasing by the health services industry followed at 13%.
"This year is shaping up to be one of the strongest in recent memory in terms of Manhattan's leasing performance, thanks to continued job growth and a healthy economy," says David Amsterdam, president – investments, leasing & eastern region for Colliers International. "Co-working companies continue to amass significant office space as asking rents remained at a record-high while supply and absorption remained stable. While trading volume remained below the historic average, large assets like 4 Hudson Square and Terminal Stores dominated the New York investment sales market."
Job growth remains strong, according to statistics from the New York State Department of Labor. From August 2017 to August 2018, New York City added 74,200 new private sector jobs, a 1.9% yearly increase. New York City bested annual employment growth for New York State (at 1.5%) and matched national private sector growth (at 1.9%). Unemployment in New York City (as of August 2018) was down 0.8 percentage points year-over-year, but 0.9 percentage points above the historic low of 3.4% from May 2018.
Manhattan's asking rent average increased for the third consecutive quarter to $75.86-a-square-foot, a new quarterly record. Asking rents gained 2.3% since June 2018, the largest quarterly increase in three years. The average was up 4.1% since the third quarter of last year. Pricing was higher in eight of Manhattan's 18 submarkets, quarter-over-quarter, the Colliers report states.
The quarterly availability rate was unchanged at 10.2% but ticked up 0.4 percentage points, year-over-year. Quarterly absorption was basically flat at negative 0.11 million square feet.
Investment sales activity was nearly 50% under peak levels from 2014 to 2016. With 160 transactions closed year-to-date, across all product types, the market is on pace to end 2018 with approximately 220 deals. As of the third quarter of 2018, the average price per-square-foot of a Manhattan office building was $976.
Some of the interesting takeaways from the Colliers report includes:
• Midtown posted its best quarterly leasing numbers since 2000, with six leases of more than 250,000 square feet, including three mega-deals of more than 500,000 square feet. Leasing was up a staggering 80.3% to 7.35 million square feet from three months earlier. Leasing volume was higher by an equally impressive nearly three-fourths compared to a year earlier.
• The FIRE sector dominated third quarter leasing with 57% of all deals, led by JPMorgan Chase's 855,000-square-foot renewal at 277 Park Ave. and Evercore's 344,000-square-foot renewal/expansion at 55 East 52nd St. Leasing by health services tenants followed with an 18% share.
• Midtown's quarterly asking rent average increased 4.7% to $84.33-per-square-foot—the largest quarterly percentage jump since 2014. Pricing was higher for Class A inventory and in three of Midtown's five submarkets, quarter-over-quarter. The asking rent average was up 3.5% over the third quarter of 2017.
• On the flip side, quarterly leasing activity Downtown plunged nearly 50% to a two-year low of 950,000 million square feet. The year-over-year numbers were correspondingly dismal as leasing volume slumped by 44.7%, Colliers states in its report.
• Spotify's 86,000-square-foot expansion at 4 World Trade Center led the TAMI sector's 36% market share. Leasing by FIRE tenants followed at 27%, mostly with deals by co-working companies including WeWork's 77,000-square-foot expansion at 85 Broad St. and Knotel's 36,000-square-foot new lease at 110 William St.
• Lower Manhattan's quarterly asking rent average fell by 0.6% to $62.67-a-square-foot. Pricing was lower in Class A and Class C buildings and in four of Downtown's five submarkets.
• Quarterly leasing in Midtown South slowed by nearly 30.0% to 3.09 million square feet. Leasing activity was off 12.7%, year-over-year.
• A little more than 930,000 square feet of deals by co-working companies boosted the FIRE sector to a 50% industry share in Midtown South—WeWork leased 258,000 square feet at 368 Ninth Ave. and Spaces closed on 103,000 square feet at 287 Park Ave. South. Also, insurance giant Aetna relocated to 106,000 square feet at 1 Soho Square.
• Slightly more than one-fourth of all deals in the third quarter in Midtown South were to TAMI (technology, advertising, media and information services) tenants, including Anomaly Partner's 85,000-square-foot renewal at 536 Broadway and Yelp's 58,000-square-foot sublet from Flatiron Health at 200 Fifth Ave.
• Pricing for Midtown South's Class A buildings reached a new quarterly record $90.10-per-square-foot. The asking rent average in the Hudson Yards/ Manhattan West ($106.19-per-square-foot) and Soho ($89.93-per-square-foot) submarkets reached post-Great Recession highs. Despite three consecutive quarterly increases, declines in the asking rent averages for Class B and C buildings drove Midtown South's overall asking rent average down 0.5% to $73.91-per-square-foot. However, average pricing was up 11.8% since the third quarter of 2017.