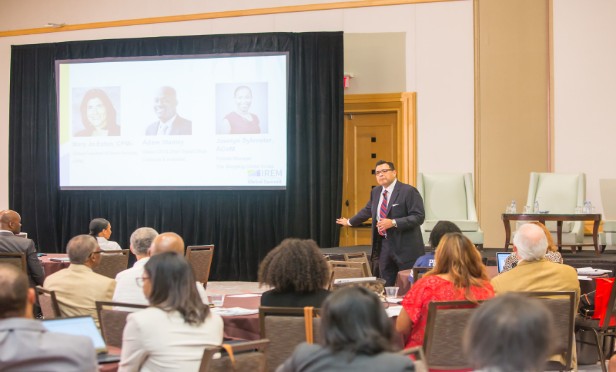 HOLLYWOOD, FL—Robert Rodriguez, Ph.D., is of Mexican descent, but as a child growing up in Minnesota, he struggled to fit in. When he joined the workforce years later, his mentors told him: "Don't do that Latino thing. You don't want folks to think you were hired because of affirmative action."
"When I was at home, I was dancing salsa, but when I went to work, I left that behind," said Rodriguez, president of Chicago-based DRR Advisors, a management and diversity consulting firm. He didn't feel connected to his employers.
It was only when Rodriguez decided to embrace his heritage and leverage it as an asset that it became a source of strength for him—and his career took off.
Rodriguez told that story to an audience attending a diversity session at the 2018 IREM Global Summit, held Sept. 26-29 in Hollywood. Joining him for the panel discussion "Diversity 2.0: Moving from Rhetoric to Action" were Mary Jo Eaton, global president, asset services for CBRE; Adam Stanley, global CIO and chief digital officer for Cushman & Wakefield; and Jasmyn Sylvester, portfolio manager for The Shopping Center Group.
The main takeaway? Diversity is essential to all real estate organizations and is simply good business—and that includes not just racial and ethnic diversity, but diversity based on gender and sexual orientation as well.
Unconscious Bias
Even among organizations that claim to be inclusive, unconscious bias may exist. Women get interrupted more at meetings, hiring managers may not be conscious of cultural differences and performance standards can inadvertently make upward mobility more difficult.
The solutions: train managers better on inclusive leadership and cultural bias, increase affinity-based leadership development, audit performance manuals and increase the use of employer resource groups (ERGs). Rodriguez said Facebook has ERGs for women, African Americans, Latinos, disabled employees and veterans. These groups, adopted in about 95 percent of Fortune 500 companies, encourage employees with similar characteristics to get together, learn from, inspire and mentor each other.
Standing Up
Employees at all levels need to recognize and challenge bias when it occurs. CBRE's Eaton said that leaders have a responsibility to shepherd younger employees. "Things are getting better," she said. "There has been some movement in a positive direction."
Cushman's Stanley said he was previously in the financial services industry and thought there was a problem with diversity there until he entered commercial real estate. And Sylvester said many times she felt that she was the only spokesperson for women or Latinas or African Americans. "A lot of the time I just did my work and that was enough, but there came a point where I had to speak up," she said. "I was doing things to massage everyone else's comfort rather than make a change."
Good for Business
The bottom line, the panelists said, is that diversity is good for business. Latino purchasing power is booming, for example, and can be a catalyst for economic growth. Eaton said that organizations with more diversity do better financially. So it's important to speak up and challenge unconscious bias.