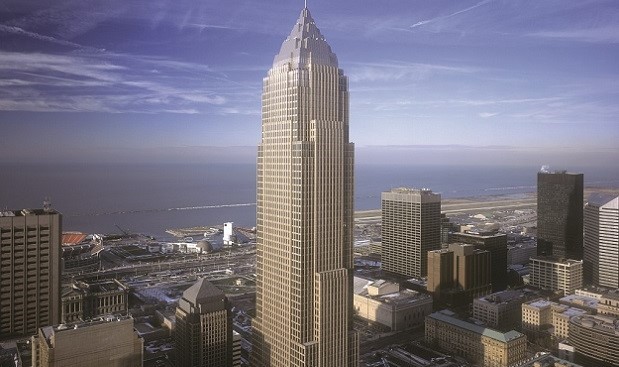 CLEVELAND—Office investors from across the US have discovered that the demand for space in Cleveland's CBD has created opportunities. The reported $187 million price tag of this week's blockbuster sale of 200 Public Square, a 1.3 million square foot tower, just continues the trend.
That works out to about $146 per square foot, a big number for Cleveland, and bested only by the sale of 1.3 million square foot Key Tower in early 2017 for a gross sales price of $267.5 million.
Most office transactions bring in far lees than these trophy properties. New owners usually anticipate making heavy investments to bring the 1980s-era buildings up to date and add the amenities tenants need to attract and retain talent.
NJ-based investor Rugby Realty, for example, plunked down $36 million at the end of the second quarter for the 575,000-square-foot AECOM Centre at 1300 E. 9th St., according to a third q7uarter report from NKF. That equals around $64 per square foot.
"I think that's an excellent price in light of the capital needed to bring it up to class A quality," Robert C. Nosal, executive managing director of NKF's Cleveland office, tells GlobeSt.com. The building is now 43% vacant, and he points out that the new owner plans to spend about $10 million on renovations, including a new lobby, fitness center and advanced conference facilities, among other changes. "It's a signal that Cleveland continues to prosper and give old properties new life."
Just across the street from AECOM Centre, 1301 E. 9th St., known as the Tower at Erieview, was just bought for $16.7 million, or about $22 per square foot, by KRA Management. This renovation will involve turning 12 floors of the 40-story tower into luxury apartments, a popular move these days.
Nosal says millions of square feet within class B and C office buildings have been transformed into residences and other uses over the past few years. That has tightened up the market considerably, as well as brought about 15,000 new residents into the downtown, along with the retail, restaurants and entertainment that usually follows. "It's exciting to see that many new faces downtown."
Successfully renovated properties include the Halle Building, an 11-story, 172,000-square-foot building that was at one point about two-thirds vacant. But after six floors were converted to residential, the office portion is now 100% occupied. Likewise, the 14-story base of Terminal Tower, Cleveland's tallest building after Key Tower, was converted to residences, and the office portion now has a vacancy rate of just 4%.
Over the past eight quarters, the greater Cleveland area has seen seven with positive absorption. The 211,506 square feet absorbed in the third made up for a somewhat sluggish spring, says NKF, and brought the vacancy rate down to 16.4%, a drop of 20 bps.
"This is obviously not just a Cleveland story," Nosal adds. "It's a huge trend in urban, downtown real estate."