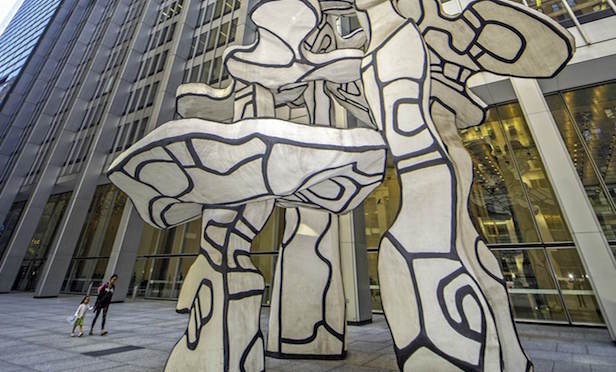 NEW YORK CITY—Fosun has put on the market up to a 49% ownership interest in its Financial District skyscraper, 28 Liberty, a source close to the deal tells GlobeSt.com. That person says the property was last appraised at $1.6 billion in 2016 in connection with a refinancing.
CBRE's Darcy Stacom, chairman and head of New York City capital markets, and William Shanahan, chairman of New York City capital markets, have been tapped for this new campaign to sell a partial interest in the property. A JLL team led by Peter Riguardi, chairman and president, New York tri-state region, is handling the property leasing.
The source emphasizes Fosun is not seeking an outright sale but a local or international partnership and plans to put any proceeds to use outside of 28 Liberty, including investments in other properties. Fosun issued a statement saying it will remain the majority owner of the building with full control of the property.
"The property team with decades of experience will continue to manage the property. Fosun will continue to expand its presence in the US and remains open to any business development opportunities," the statement says.
The Chinese conglomerate purchased the building in December 2013 for $725 million from JP Morgan with CBRE as the broker, according to Real Capital Analytics. The industry database also indicates in its transaction history, that the property was refinanced for $500 million with another $300 million expected down the line for capital improvements, with Credit Agricole, Deutsche Bank, HSBC and Nataxis.
Fosun states it is close to completing a comprehensive repositioning. Its statement notes this has included a complete infrastructure renovation, the creation of the Danny Meyer, Union Square Hospitality Group restaurant, Manhatta, on the top floor, and a new 200,000 square-foot retail center. (The New York Times just reviewed Manhatta on October 9.) The person with knowledge of the plans for the building tells GlobeSt.com that Fosun has already invested over $200 million in the renovations.
The source also states that 90% of the 2.2 million square-foot office building is leased. The London Stock Exchange recently signed a lease at 28 Liberty and will join other tenants including Wolters Kluwer, Allianz, Assurant, Booking.com and the office of the New York State Attorney General.
Located in Wall Street's Financial District, the landmarked skyscraper was originally built in 1961, under the direction of David Rockefeller, to house the headquarters of Chase Manhattan Bank. Thus, the property was formerly known as One Chase Manhattan Plaza.