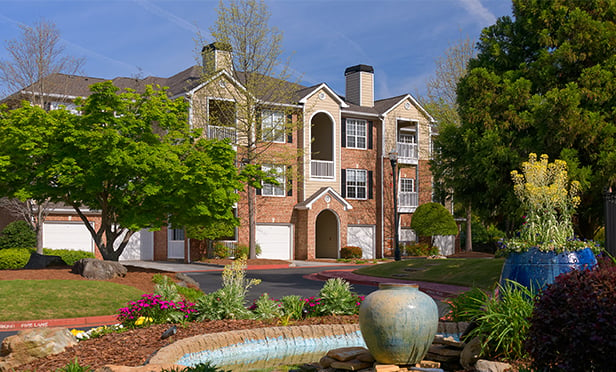 ALPHARETTA, GA—With the completion of its $172 million sale to Pollack Shores, AMLI at Northwinds, an 800-unit apartment community in Atlanta's Alpharetta submarket, will become Avery at Northwinds.
Located at 32000 Gardner Drive, the property is within walking distance of downtown Alpharetta and the Avalon mixed-use development featuring Whole Foods, chef-driven restaurants, high-end retail stores, and 655,000 square feet of office space.
Pollack Shores did not disclose the sale price, but Real Capital Analytics, a proprietary research database that tracks commercial real estate sales data, says the purchase price was above $172 million, or about $215,468 per unit, which ranks the sale as the second largest multifamily transaction in Atlanta metro history.
CBRE's Paul Berry represented the seller, AMLI Residential, in the transaction.
"With only five rental communities developed in the last 15 years, Alpharetta has the most favorable multifamily supply/demand relationship of Metro Atlanta's major submarkets, a characteristic that benefits Avery at Northwinds," says Berry, a vice chairman at CBRE. "The property's location along the planned Alpha Loop and within the Milton High School district are just two of this property's exceptional features. Add to that the opportunity to boost revenues through property enhancements, and Pollack Shores has an outstanding scenario for its ownership of the asset."
Avery at Northwinds will benefit from major new developments such as the Northwinds Summit mixed-use project, which will include 1.2 million square feet of office space; 30,000 square feet of retail and restaurants, a hotel and condo and rental properties. This project is expected to bring 6,000 potential new jobs. Additionally, approximately one-quarter mile from Avery at Northwinds will be the 63-acre Tech Village with 664,000 square feet of office space; 55,000 square feet of retail; and a hotel and entertainment.
"The addition of Avery at Northwinds represents Pollack Shores' largest acquisition to date, and we're pleased to have worked with AMLI and CBRE on this significant transaction," says Brendan Whalen, vice president of acquisitions at Pollack Shores. "With major employers, excellent schools and a plethora of new and dynamic entertainment destinations all nearby, there is no shortage of demand drivers in the Alpharetta submarket. We look forward to executing our planned renovations, which will create a premier living experience for residents who seek a true live-work-play experience."
Completed in 1998, the former AMLI at Northwinds is surrounded by major employers including Verizon Wireless, ADP, McKesson, AT&T, and Fiserv, among many other technology-based businesses. The property features amenities such as three uniquely designed pools, three tennis courts, a dog park, playground, and courtyards with mature landscaping.
AMLI will maintain a presence in Alpharetta with its continued ownership of AMLI at Northpoint. "At one time, AMLI owned one-third of all multifamily rental apartments in Alpharetta," says Phil Tague, president of AMLI. "That reflects our admiration for Alpharetta's political leadership, environmental stewardship, and employment mix. As an additional benefit to us, Alpharetta's Community Development Department ranks at the top of comparable municipal professionals in other cities where we own and build apartments. We intend to increase our presence in Alpharetta again over time. It's too good a place to live."