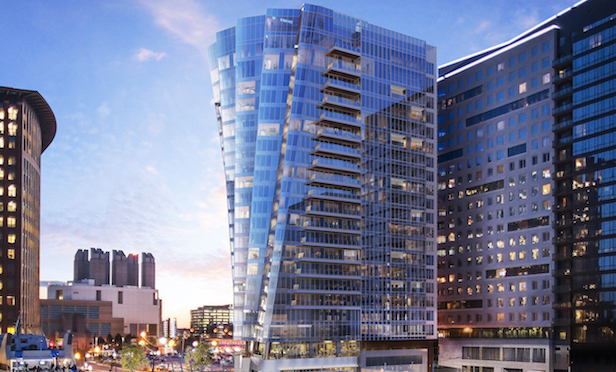 BOSTON—Cronin Development has landed construction financing for its The St. Regis Residences, Boston at 150 Seaport Boulevard development here.
JP Morgan and Mack Real Estate are providing $294 million for the luxury condominium tower. Construction on the 22-story building that is being built by John Moriarty & Associates has begun.
HFF represented Cronin Development in the transaction, as did the Sullivan & Worcester LLP team of Ashley Brooks, Victor Baltera, Warren Heilbronner and Joel Carpenter. Joyal Capital Management is an equity partner in the project.
"This transaction allows us to take the next step towards making The St. Regis Residences, Boston a reality," says Jon Cronin, principal at Cronin Development. "With the start of construction, we expect to deliver 114 exquisite homes in early 2020."
St. Regis Residences, Boston will feature a twisting and angular contemporary design that the developer says will evoke billowing sails in a nod to its nautical location." Every residence offers sweeping views of Boston or Boston Harbor as well as extensive access to outdoor space. The tower will also include underground parking, a two-story signature restaurant, five-star amenities and customized services for owners.