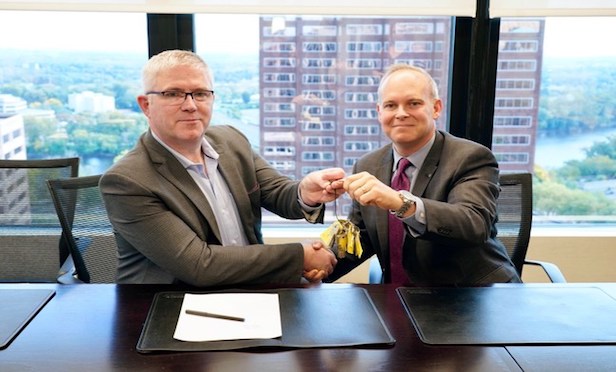 Tech:
To celebrate the industry's massive leap in embracing technology, Real Estate Forum is highlighting some of the most notable innovators across the commercial real estate spectrum. Click here to submit a nomination forCRE Tech's Top Tech Enterprisers.
WEST HARTFORD, CT—Ideanomics, formerly operated as Seven Stars Cloud Group, Inc., has closed on its $5.2-million purchase of the 58-acre former University of Connecticut campus here that will pave the way for the development of a major Fintech Village here.
The property will serve as Ideanomics' global headquarters. The planned more than $283-million investment by Ideanomics will focus on having the campus become an ultra-high-speed computing facility and laboratory for developing new and leading-edge Fintech solutions utilizing artificial intelligence, deep learning, IoT, and blockchain. The company, along with state officials, announced back in July the plan to develop the Fintech Village in West Hartford.
Ideanomics provides Platform-as-a-Service solutions with strong multi-layer fintech technologies leveraging blockchain and artificial intelligence. The company's headquarters is in New York City.
Earlier this year, Ideanomics consolidated its New York City offices into approximately 10,300 square feet of leased space on the 19th floor of 55 Broadway in the Financial District of Manhattan. The company also has offices in London, Hong Kong, Beijing, and Shanghai, China.
"We intend to expand upon the original campus' dedication to excellence by enhancing the efforts to educate, create the ultimate in learning and R&D environments, and by building out the campus to attract top tier academic talent, companies, entrepreneurs, and innovators from around the world. Our Fintech Village technology campus will stimulate the highest innovation by boasting the finest in urban design, sustainable and green technologies, and improvements to community connectivity factors such as trails for walking, biking, and enriched urban flow," says Dr. Bruno Wu, co-CEO and chairman of Ideanomics. "
Connecticut Gov. Dannel P. Malloy says of the project, " The greater Hartford region is emerging as a hub for high-tech and innovation industries. With our best-in-the-nation workforce, we are prepared to help these companies thrive and grow. A commitment by a company like Ideanomics to establish their global headquarters for technology and innovation here in our state makes Connecticut an even more attractive place to live and work and will have an impact far beyond this one location in West Hartford."
UConn's former campus in West Hartford consists of two contiguous properties located at 1700 and 1800 Asylum Ave.
Now that the purchase has been formally closed with the State of Connecticut and UConn, Fintech Village will look to achieve LEED Gold certification from the U.S. Green Building Council by investing in new and environmentally efficient technologies at the campus. The Fintech Village development is projected to create approximately 330 jobs.
"It is fitting that the UConn West Hartford campus, which housed a renowned institution of higher education for decades, will soon become a world-class technology hub. It's also an ideal complement to UConn's efforts to cultivate and promote lasting jobs and economic development in our state," says Scott Jordan, UConn's Executive Vice President for Administration and Chief Financial Officer. "We look forward to working with Ideanomics on the transition of this property as its exciting vision for the site becomes reality."
The company has hired Newman Architects to plan and design Fintech Village.
For more information on real estate technology, join us at RealShare APARTMENTS in Los Angeles, CA from October 29-30, 2018. This year, GlobeSt.com and CRETech are coming together to present two highly engaging sessions that highlight cutting-edge technology solutions. These interactive and entertaining discussions will provide key takeaways and practical insights from top technology innovators and top adopters in the multifamily industry. To register for RealShare APARTMENTS visit: https://www.eiseverywhere.com/ehome/302312/653773/.