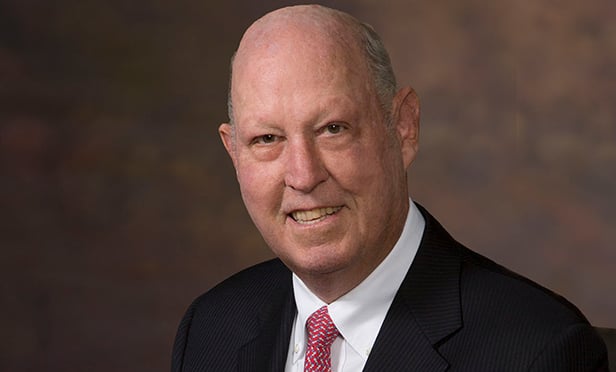 WYNNEWOOD, PA—Joseph Anthony "Tony" Hayden, a lifelong Philadelphia-area resident and a leading figure in the region's commercial real estate industry for nearly 50 years, died peacefully on Tuesday, October 9 at Lankenau Hospital in Wynnewood, PA, surrounded by his family. Hayden was 74.
At the time of his death, Hayden was chairman emeritus of Maguire Hayden Real Estate Company, which sponsored both the Maguire Hayden Real Estate Company and MIM-Hayden Real Estate Funds, investment vehicles redeveloping office and industrial properties throughout the Mid-Atlantic region, but primarily in the Philadelphia suburban market that he knew best.
In addition to his deal-making prowess, Hayden was a legendary figure in the industry for his charismatic storytelling ability (often involving the recounting of his own comic misadventures), his proudly old-school work ethic and values, his generous mentorship and wise advice to the countless young people who sought it, and his bottomless loyalty to family and friends.
"My dad always emphasized the importance of practice and gritty hard work," says his youngest daughter Stephanie Hayden. "Whether it be a commercial real estate deal, a speech, a golf match – he overprepared and then went with the flow which I believe lead him to a tremendous amount of success in both his business and personal life."
A profligate employer of the superlative form, Hayden never hesitated to pronounce a favorite person, place or thing as "the BEST!" –thereby putting any further debate on the topic to rest. Among the many "BESTS" frequently cited were Avalon, Philadelphia Country Club, Quail Valley Golf Club of Vero Beach, FL, and Elvis Presley. But he never let it go unknown that the absolute BEST accomplishments of his life were his loving, 46-year marriage to Patricia "Tish" Hayden (neé Maginnis) and the raising of their five children, Mandy McConnell (Stephen), Anthony J. Hayden (Mary Kate), Patrice Meagher (Michael), Tara Buchakjian (Jeffrey) and Stephanie Hayden.
Hayden was born April 8, 1944 in Philadelphia to Joseph and Mary (neé Mallon) Hayden. He grew up in Mount Airy and attended high school at St. Joseph's Prep. He worked for a year as a custodian at the Vicks VapoRub plant in Philadelphia before graduating from La Salle University, where he earned a BS in accounting in 1967. Hayden loved his experiences at "The Prep" and La Salle and would go on to serve many years as vice chairman on the board of trustees of both institutions later in life.
After graduating from La Salle, Hayden joined the US Navy as an officer and received the Navy Commendation Medal for his service as a lieutenant in Vietnam.
Returning to civilian life, Hayden began his commercial real estate career at Strauss Greenberg before moving to Rouse & Associates and ultimately to Cushman & Wakefield in 1974. At Cushman & Wakefield, in addition to starting and managing the Philadelphia office—and serving as its top producer—he helped lead the then-New York based brokerage's expansion into a national full-service platform, opening 10 regional offices in markets across the Mid-Atlantic and Midwest and rising to executive vice president of the corporation. After 21 years as an executive of C&W, Hayden founded and became the managing partner of Beacon Commercial Real Estate, which ultimately grew into a leading regional commercial brokerage firm. Following the successful creation of Beacon, Hayden pursued his dream of ownership by forming Hayden Real Estate Investments in 2009.
Over the years, he formed a deep personal and business relationship with the late developer Willard G. Rouse III, assisting in the lease up of the transformative One Liberty Place, the first Philadelphia skyscraper to exceed the height of City Hall, and then serving nearly 25 years on the board of directors of Liberty Property Trust, the successor company to Rouse & Associates, following its public listing on the New York Stock Exchange.
Among his many memberships of professional organizations, Hayden served as president of the Society of Industrial Realtors in 1982 and president of the Philadelphia Board of Realtors in 1985. In addition to Liberty Property Trust, his board directorships included Telespectrum Worldwide, Founders' Bank, Pierce Leahy Corporation, and Cushman & Wakefield.
His philanthropic activities included his service on the boards of St. Joseph's Preparatory School, La Salle University, The Gesu School, and Catholic Charities of Philadelphia and support of the National Kidney Foundation and diabetes research.
Garrulous and fun-loving, Hayden enjoyed travel, golf, the occasional gentlemanly wager, and most of all, regaling an audience of comrades with a laughter-inducing, and only slightly exaggerated, tales. For many years he could be found at the likes of the Whitebrier in Avalon, NJ, or Mace's Crossing on Cherry Street, holding court among friends and associates. Later, the scene shifted to Philadelphia Country Club, where after decades of frustration in the "major" golf tournaments, he finally broke through to win the Member-Guest Invitational in 2012 and again in 2014, memorably sealing the latter victory by sinking a 10-foot "knee-knocker" putt on the sudden death playoff hole.
Relatives and friends are invited to a viewing on Monday, October 15 from 5:30 to 8 p.m. at St. John Vianney church, 350 Conshohocken State Rd., Gladwyne, PA. A funeral mass will be held on Tuesday, October 16 at 10:30 am at Our Mother of Good Counsel Roman Catholic Church, 31 Pennswood Rd., Bryn Mawr, PA. In lieu of flowers, memorial donations may be made to St. Joseph's Preparatory School, 1733 W. Girard Ave., Philadelphia, PA 19130 or The Juvenile Diabetes Research Foundation, 555 Croton Road, Suite 101, King of Prussia, PA 19406.
In addition to his wife and children, Hayden is survived grandchildren Peter and Paul McConnell; Joseph, Clare, John Paul, Margaret and Tony Hayden; Fox, Mary, Lexie and Hayden Meagher; and Kate, Quinn, and Rhys Buchakjian; his sister Sara Lee Murphy (Bill), in-laws Anita and Bruce Ficken, Eugene J. Maginnis, Christine and William Maginnis, Mary and Michael Fisher, Anthony and Eileen Maginnis, and Terry and Paul Maginnis, along with many cousins, nieces, nephews and best friends.