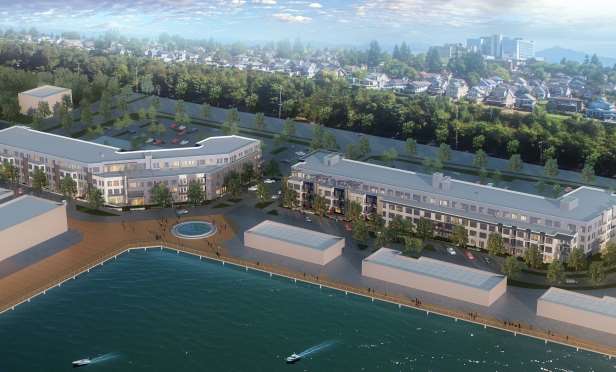 SEATTLE—The Port continues its $85 million public infrastructure investment by building additional roadway access, constructing new public spaces to connect with the new Pacific Rim Plaza and Splash Fountain, and building new marine infrastructure at Fisherman's Harbor, including a new guest dock that doubles as a public dock walk. The project is entitled through the city of Everett.
The project includes five districts: Fisherman's Harbor, the Millwright District, the Esplanade District, Wharf's Edge and the Craftsman District. The Craftsman District was completed as part of the Port's development of a boatyard in 2009 and Fisherman's Harbor is the first phase of the mixed-use project to proceed.
In partnership with the department of ecology, the Port of Everett restored 60 acres of property for economic use. A large portion of these cleanups are in Waterfront Place, the epicenter of Everett's mill town roots. After deliberate policy direction by the port commission, the project area is in development. Construction on the first zone began in mid-2016 and is anticipated for completion in mid-2020.
At full build-out of up to 1.5 million square feet, the 65-acre Waterfront Place Central mixed-use development will include new trails and regional parks, public gathering spaces, up to 660 housing units, Hotel Indigo, a 142-room business and lifestyle waterfront hotel; fine and casual dining restaurants, and commercial, retail and marine sales/services. Hotel Indigo broke ground in March and has gone vertical in the last weeks. The hotel is expected to be open in mid-2019 and will feature full amenities, a 150-seat restaurant, and a 5,000-square-foot conference and event space. The development strategy calls for up to 3,200 stalls of surface and structured parking at maximum density.
The entire project will support more than 2,075 family-wage jobs and the project's private development will generate $8.6 million annually in state and local sales taxes, in addition to the temporary construction jobs, sales tax and building permit revenues. In addition to $85 million in public upland infrastructure ($20 million in first phase), there is $550 million in private investment, GlobeSt.com learns.
One of the properties within Waterfront Place Central is Everett Waterfront Apartments. Local multifamily builder SeaLevel Properties reports strong demand for the new development, with 80% of available units offered in the first release being reserved.
The first of two multifamily apartment buildings are located at 1300 W. Marine View Dr. Slated for completion in 2020, the building is comprised of 266 studio, one-, two- and three-bedroom homes in two connected four-story buildings.
"We were hoping for strong interest in these buildings and the interest has far exceeded our expectations," said SeaLevel Properties director John Shaw. "It confirms our instincts that there is indeed very high demand for high quality waterfront living in Everett."
SeaLevel Properties has opened 25% of the North Tower, which features 34 units including studios, one-bedroom and two-bedroom homes. Given the strong interest, a second release is likely.
"The public response to this housing opening is consistent with the interest we have heard from the community since the project began," Port of Everett acting CEO Lisa Lefeber said. "There is a tremendous demand and desire to live on the Everett waterfront and we can't wait until construction is underway and life is brought to Fisherman's Harbor at Waterfront Place."
With construction anticipated in early 2019, SeaLevel's apartment homes at Fisherman's Harbor are designed to reflect unique waterfront experiences: a marine/water-inspired experience in the Southern Building and an industrial/timber-inspired experience in the Northern Building.
"Had SeaLevel released all of the water view units in the release event, we would have secured deposits for all of them," Shaw tells GlobeSt.com. "Two-bedroom and three-bedroom units were the most talked about at the release event, again with a water view."
The design includes a combination of contemporary urban design and rugged urban materials that pay homage to the natural resources of timber, steel and water on the Puget Sound. The project will also maximize the Port's infrastructure features and pedestrian patterns, with lobbies to activate streets and a public setting.
"I've been involved with scores of multifamily developments over the years, but I have never seen such excitement for a new project–especially one that is almost two years from completion," said Mike Simons, executive vice president of Allied Residential.
Gracorp Capital of Vancouver, BC is SeaLevel's equity partner.
For more information on multifamily news, join GlobeSt.com at RealShare Apartments in Los Angeles from October 29-30, 2018. RealShare Apartments brings together the industry's top owners, investors, developers, brokers and financiers as they gather for THE MULTIFAMILY EVENT OF THE YEAR! This conference leverages the strength of ALM's Real Estate Forum and GlobeSt.com, which report daily on the multifamily sector. Register for RealShare Apartments.