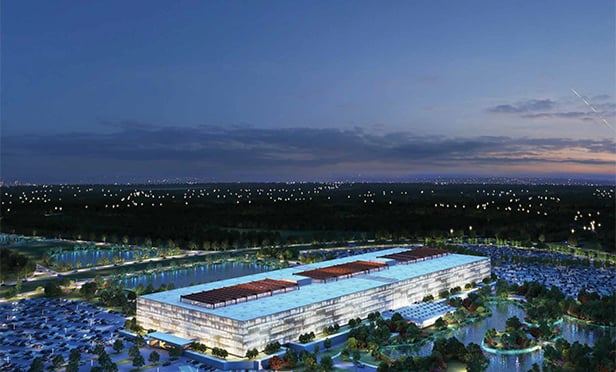 HOLMDEL, NJ—Somerset Development has signed fifteen new office leases at Bell Works, the successful revitalization of the two-million-square-foot Bell Laboratories in Holmdel, NJ. The latest office users to join the mixed-use 'metroburb' – a self-contained metropolis in a suburban locale – further boost the successful transformation of the historic landmark into a popular destination to work, shop, dine, stay, entertain, and more.
"Bell Works continues to generate incredible leasing interest, having emerged as the preeminent commercial venue in the region – and one of the most compelling mixed-use environments in the country," says Ralph Zucker, president of Somerset Development. "Each new company adds its own sense of vitality to the Bell Works community, not only among fellow office-based businesses, but to the long list of retailers, restaurants, and other attractions that make Bell Works a truly unique destination."
Somerset Development was represented in each of the transactions by The Garibaldi Group's president Jeff Garibaldi, vice president Tara Keating and vice president Kyle Mahoney—its exclusive team of office leasing agents. The new tenants will occupy more than 48,000 square feet of the mixed-use metroburb.
New office tenants at Bell Works are:
Atrium Staffing, a woman-owned recruitment and contingent workforce solutions company that designs and manages client enterprise and tech-forward talent engagement programs.
ASC Americas, a global provider of omni-channel recording and analytics solutions for contact centers, financial institutions and public safety organizations.
Defined Spaces Commercial, an award-winning design studio and consulting agency offering work place space planning, hospitality design and model home merchandising. Focusing on footprint optimization, employee well-being, operational performance and margin improvement, as well as brand imaging, project management and turnkey operations.
Ding, an international mobile top-up platform delivering cutting-edge technology to developed and emerging markets.
Drive21, a project management and design consultation firm offering top-to-bottom project management, engineering and logistics, as well as print production, custom fabrication and installation. Drive21 is currently executing on the exterior wayfinding at Bell Works and will complete installation this month.
Garmany of Red Bank, a corporate office location for the refined clothing store offering designer brands, shoes and accessories for men and women.
HarborOne Mortgage, a leader in residential mortgage lending throughout the Northeast since 1983. Greg Wareham, manager of the Bell Works' office, lives locally and leads an experienced team of local experts to assist with home finance queries.
Hillcrest Wealth Advisors, a firm providing investment advisory services, financial planning and discretionary investment management.
HiringSolved, a company specializing in artificial intelligence-powered recruiting, automated candidate searching and innovative talent acquisition.
HYLAN, a leading provider of turnkey communications and electrical infrastructure design, engineering and construction services for wireline, wireless and smart city municipal service operators around the US.
Onyx Equities, a leading real estate investment and property services firm specializing in acquiring and managing commercial properties.
Performance Language Solutions, a leading patent translation and global IP filing provider specializing in turnkey solutions for Paris Convention and PCT National Phase filings and EP Validation. PLS safeguards intellectual property with a streamlined approach, freeing up time and resources for more strategic applications.
LightRiver Software, a pioneer and the industry leader in the software defined discovery, analysis and control of multivendor fiber optic telecommunications networks
Upward.net, a company disrupting the hiring process and human resources by connecting candidates to employers through innovative technology solutions.
13th Legislative District: Senator Declan O'Scanlon and Assemblywoman Serena DiMaso represent New Jersey's 13thLegislative District including Holmdel and numerous towns in Northeastern Monmouth County. Their office is available to the public to answer questions pertaining to New Jersey laws and to act as a resource and advocate for residents experiencing difficulty with government offices or programs.
"We're thrilled with the continued leasing demand at Bell Works and are excited to welcome a series of new tenants to the unique and collaborative community we've created at this increasingly dynamic metroburb," says Jeff Garibaldi. "The office environment here is unlike any other in New Jersey, and its unique combination of modern office space, urban-style shopping and chic dining continues to attract a diverse mix of businesses to the building."
Bell Works' quarter-mile long atrium has been reimagined into a publicly accessible destination for shops, restaurants, healthcare, community services, and more. Today, Bell Works' tenants and visitors alike can take advantage of the convenient retail options popping up on the pedestrian street. Recent openings like Salon Concrete, a hair salon offering professional cut, color and styling for men and women, and City Barn Country Penthouse, a boutique offering home, bed, bath and other gift items, have officially opened their doors to customers.
Visitors and workers at Bell Works can also choose from a handful of dining options at the newly-opened Bell Market. Spearheaded by Richard and Chantelle Corbo of RBC Hospitality, the market features: Honeybell Bakery, baked goods and coffee; Broadfork, fresh made-to-order salads; Jozu, poke bowls and traditional sushi rolls; Bubz Deli, customizable subs and deli sandwiches; and Corbo & Sons Pizza, brick-oven baked pizza and bread.
Soon, even more dining will join the pedestrian street including Mexican restaurant Estrella Azul, and sister restaurant Mezza Luna, who will offer classic Italian fare. They will be accompanied by popular chain The Hummus & Pita Co., whose menu offers traditional Mediterranean cuisine.
Later this year, additional retailers will be open for business at the metroburb, including: Dimension Dental, a premier dental support organization; OceanFirst Bank, a community bank offering commercial and residential financing solutions; Alchemist Jewelers, a fine jewelry boutique; Holmdel Florist, a shop offering beautiful floral arrangements for any occasion; and, The Bar Method, a popular exercise boutique offering specialized barre classes and group fitness.
Somerset Development has completed construction on a 40,000 square-foot conference and event space. Meanwhile, the rooftop of the building will soon house a 186-room hotel along with a restaurant, bar, lounge area and infinity pool. Earlier in September, Two Roads Hospitality, a leading national hospitality group, was tapped to serve as hotel and conference space operator at Bell Works.
With the addition of the new office tenants and retail options, Bell Works, formerly the historic Bell Labs research facility, is continuing its dramatic transformation into what Ralph Zucker has dubbed a 'metroburb'—a self-contained urban environment in a highly livable suburban locale. The building continues to experience incredible leasing momentum with more than 80 percent of office space and just over 40 percent of retail space leased. Today, the building welcomes over 3,500 workers daily, as well as regular visitors interested in shopping, dining or perusing the weekly Farmers Market. Also, a popular destination for Holmdel residents, Bell Works is home to the brand new Holmdel Library and Learning Center as well as the Holmdel Montessori school.
Originally constructed between 1962 and 1964 by world-renowned modernist architect Eero Saarinen, the building is revered for its role in spurring the development of some of the world's foremost inventions and research concepts. In its 40-plus year history as the research headquarters for Bell Laboratories, Lucent, and Alcatel-Lucent, the building housed a total of seven Nobel Prize winners, including those who conceived theories for the laser, the Big Bang theory, cellular technology, the transistor, and more.
Situated along Crawfords Corner Road, Bell Works is approximately one mile from Exit 114 of the Garden State Parkway. Its central New Jersey location provides easy access to points north and south.