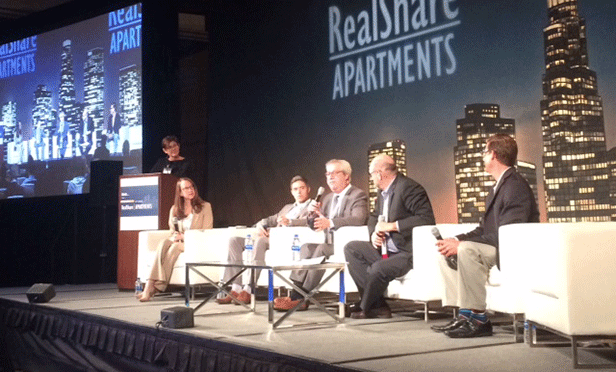 When the topic of disruption arises we often hear; smart homes will soon be the norm, more people than ever are connected via the Internet of Things, and Artificial Intelligence will disrupt the way we live, work and play. That was exactly what we heard from RealShare Apartments' Tuesday morning opening session: Mega Trends and Large Scale Disruption Affection Multifamily. The session also examined major disruptors from political measures like proposition 10, 13, the Elis Act, and trade wars.
Moderated by Kitty Wallace, EVP of Colliers International, the first question was the topic of Prop 10, what the outcome might be (likely a no said panelists) and how we got here.
Richard Green, director and chair of the USC Lusk Center for Real Estate Chair and Department of Policy Analysis and Real Estate, said that it came about because people are frustrated because their rents are rising faster than their incomes. "Prop 10 reflects a lashing out…people are angered about the rent they are paying."
If you look at affordability, the average rent to income ratio in Los Angeles is about 40% said Jeff Adler, vice president of Yardi Matrix. In places like Salt Lake City, for example, it is closer to 18%. "The affordability ratios have significantly risen. In most cases, the only product that can be delivered right now is high-end product but there is a shortage of housing at the middle-to-low end so we are seeing the movement of jobs and people to other cities."
Will Cipes, VP of development at Carmel Partners, explained that Prop 10 has made his company take a hard look at some of the cities where they might have to stomach what might happen if it passes. "Even if it goes down, it will come back smarter," he said. "We have seen a lot of cities that have previously been open to development now look at inclusionary zoning as a result of these changes… I don't think you can expect the policy makers to hear your message when they are hearing affordability issues from so many others."
The panel also shifted to technology, where Adler said it will fundamentally change the way we live, and it will happen in the next two decades. He explained that the technologies being created today have the promise of fundamentally changing multifamily and making it far more of an experience.
Panelist Jennifer Staciokas, EVP of marketing and training at Pinnacle, pointed to artificial intelligence tool her company is testing out at the moment in the New York market. It is a leasing assistant robot named "ALease" that responds to people's requests via texts, and she notes that it is really working and people actually feel connected with "Alease" and come into the office thinking they have an appointment with the robot.
Internet of things and artificial intelligence are the major software changes that will impact multifamily living, particularly from management and operations, adds Adler. He previously told GlobeSt.com that "IoT is already beginning to land a beachhead. Security cameras, motion sensors, HVAC monitors, premise security are already happening through an app, and that is filtering through the upper end and the mid-level, and I think that will continue to expand over the next decade. This is a big thing that will have an immediate cost reduction in maintenance as well as revenue lift. Once you have done the initial packages, there is far more that can be done to make the space more interactive."
Artificial intelligence is a way to improve the management and the purchase of properties, he said. "You can marry AI and Iot. If the AI gets good enough and IoT sensors get cheap enough, you can put all of that on a platform and then you have a robot. These things converge over time into robotics. At that point, you will have a digital assistant that is mobile, and that is not too far away."
When you think about your Alexa or Google assistant or others, the way people are finding apartments is very different than in the past, added Staciokas."We are having to change our campaigns to accommodate that. Chatbots are also becoming main stream in our industry."
The talk of modular construction was also at the forefront of the panel as an answer to rising construction costs. Daniel Gehman, a studio director at Humphreys & Partners Architects, says that he sees modular as a potential disruptor to rising construction costs.
"The way we construction and frame most buildings is so ancient," he said. "You wouldn't dream of assembling your own car in your own back yard and yet that is what we do with houses."
But things are moving toward automation, uniformity and standardization, he said. "We need to do it more efficiently."
Green agrees that modular helps, but isn't driving change. "The problem is scale."