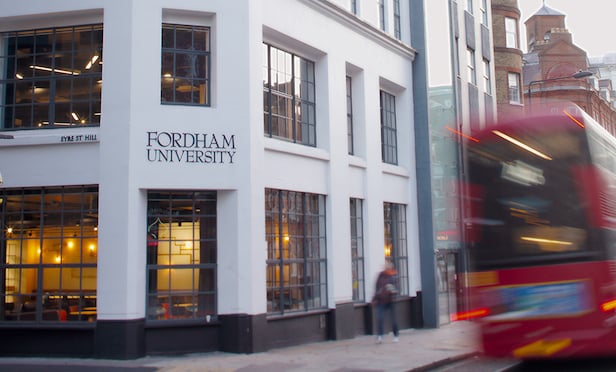 LONDON—Fordham University held an official dedication for its refurbished London Centre campus here on Clarkenwell Road earlier this week.
The new campus will be home to American university students as they study and learn the history and culture of London and Europe.
After an inaugural Mass of the Holy Spirit at St. Peter's Italian Church, nearby the London Centre, Jonathan M. Crystal, Ph.D., interim provost, chronicled Fordham's four-decades in London, beginning when leadership at Marymount College of Fordham and a group of instructors from the Royal Academy of Dramatic Arts established the London Dramatic Academy, a conservatory steeped in the British acting tradition, in Brownlow Mews.
In 2009, Fordham moved to a larger space at the University of London's Heythrop College in Kensington Square, adding both business and liberal arts courses. Crystal credited a meeting between the former dean of Marymount and the principal of Heythrop College with expanding Fordham's London campus to 3,500 square-feet at the time.
"With the dedication today, of our newly renovated, 17,000-square-foot space—that's 1,580 square meters—Fordham's new London Centre is central to the university's international strategy," Crystal said at the Oct. 30 ceremony. "In a location known for tech startups and repurposed warehouses, ever more opportunities exist as we stand committed to prepare all our students—graduate, professional, and undergraduate—to be global leaders, ready to achieve and excel in a world that is increasingly interconnected in cultural, economic, and political dimensions."
The London Centre is a campus for Fordham students and other universities to study abroad and immerse themselves in the culture of the city as well as the continent. For some students, it serves as launching point for long weekend sojourns to Paris and other European cities, university officials note.
"We are fortunate that London is a global capital that not only represents the U.K., but also represents all the many cultures of the world; this is a crossroads and has been for centuries," said Richard P. Salmi, S.J., head of the London Centre.
The newly renovated London Centre campus began as two Victorian-era buildings—probably built for commercial use—that were later combined to form the offices and manufacturing plant of Winstone Printing Inks, which served nearby Fleet Street newspapers. A north wing was added, most likely in the 1920s or '30s, the university states.
The Clerkenwell neighborhood is a former industrial neighborhood that has built a new reputation for design and tech firms that began moving in during the 1990s. It's close to the city's financial district, West End theaters, the British Museum, and St. Pancras International Railway Station (with trains that can reach Paris in less than three hours).
Leather Lane, across the street from the center, is an outdoor market with dozens of small trucks serving up a variety of street food, from Spanish paella to Vietnamese pho. Down Clerkenwell Road, near St. Peter's, an Italian grocery and a Roman pizzeria cater to the area's Italian community, while just a bit further up the road, Turkish barbers offer a cut and shave.
In addition to its London campus, Fordham University, founded in 1841, has its main campus at Rose Hill in the Bronx and also has undergraduate and graduate campuses at Lincoln Center in Manhattan and in Westchester County and also operates the Louis Calder Center (biological field station) in Armonk, NY.