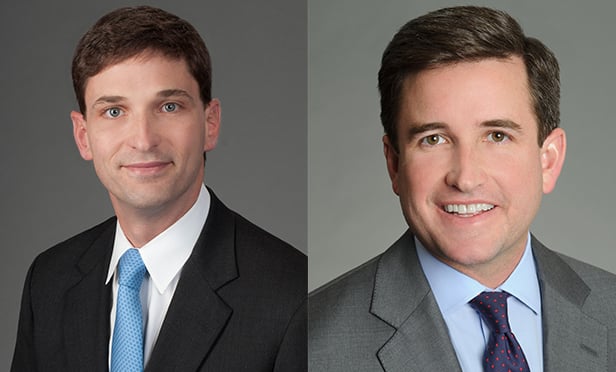 ATLANTA, GA—Working with "great teammates and colleagues around the world" has been critical to the career success that led Will Pike to be named just the third-youngest executive ever promoted to vice chairman at CBRE, he says.
The designation is the highest-ranking title among CBRE commercial real estate producers.
"I started at CBRE as an analyst when I was 22, and I have been here ever since," Pike says. "My advancement is strictly due to the great team that we have. Having great people around you is the most important aspect of one, executing great outcomes for clients, and two, building your own business."
Pike and his colleague Chris Bosworth, who serve as partners and co-leaders of CBRE Net Lease Properties, both attained the vice chairman title. Although headquartered in Atlanta, Pike says he divides his time between his office there and CBRE's New York office.
"Our Net Lease Properties practice, formed and run by Will and Chris, is incredibly successful and stands out in the industry as the leading single-tenant net lease brokerage team in the United States," says Chris Ludeman, global president, Capital Markets, CBRE. "The work ethic and consistent leadership of the team allows CBRE to remain the preeminent real estate advisor among single-tenant assets, national net lease portfolios, corporate sale-leasebacks, and zero-cash-flow transactions."
The net lease group provides net lease investors with acquisition and disposition advisory services for single-tenant assets, national net lease portfolios and corporate sale-leasebacks.
Bosworth had been at CBRE for five years when he arrived, Pike says.
"The economy is benefiting from continued global growth, an increase in employment rates and strong levels of investment, which strengthens all asset classes, particularly the net lease sector, and allows Chris and me to be bullish on the immediate and long-term performance of CBRE's Net Lease practice," says Pike. "This environment accelerates our ability to source aggressive sale-leaseback financing on behalf of both domestic and global companies."
In their careers, Bosworth and Pike have executed more than $16 billion worth of assignments spanning more than 2,600 properties. Since 2016, the team has been responsible for the disposition of 720 properties with a value of over $8.2 billion. Recent transaction highlights include:
$682 million sale-leaseback, Bloomin' Brands
$625 million H&R US net lease portfolio
$435 million sale-leaseback, Walgreens Boots Alliance
$282 million Wells Fargo office portfolio
$224 million Life Time Fitness portfolio
$130 million LPL Financial office campus
Bosworth, who joined CBRE in 1999, is a founding member of Net Lease Properties and the firm's Corporate Capital Markets practice; he is the first retail-focused capital markets professional in the firm's history to be named vice chairman.
Pike, who joined the company in 2004, is a founding member of Corporate Capital Markets, head of Retail-Occupier Capital Markets, and currently serves on the board for CBRE's Investment Properties and Americas Brokerage divisions. Pike was recognized in Real Estate Forum's National 50 Under 40 for his outstanding leadership among his industry peers.
In 2016, Bosworth and Pike were among the top one percent in overall company-wide production and named Real Estate Forum's No. 1 Investment Property Retail Professionals in the US In addition, they have consistently been recognized for CBRE's Colbert Coldwell Circle that honors the firm's elite sales professionals.