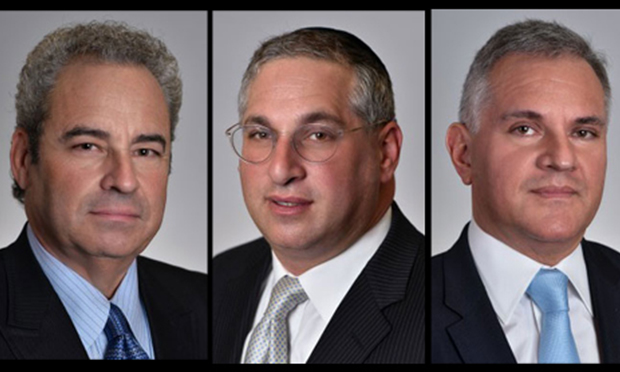 Along with president Ken Uranowitz, Gebroe-Hammer Associates' leadership team consists of Executive Managing Directors Joseph Brecher and David Oropeza.
---
Since its founding in 1975, Gebroe-Hammer Associates has been an investment brokerage tour de force. The firm's latest milestones, a reported $775 million-plus in sales encompassing 5,645 units for Q1 and Q2 2018, shore up its posture within the multifamily space as the broker of choice serving private and institutional investors locally, regionally and nationally.
Entering this year, Gebroe-Hammer had tremendous momentum–closing out 2017 with 106 deals involving more than 10,616 units, including four that exceeded $100 million. In the South Jersey-Philadelphia metro market, the firm's market specialists recorded one-third of the metro's overall transactions during the final quarter of 2017.
The secret to Gebroe-Hammer's year-over-year success has been its agility. Once dominated by private-individual owners–the backbone of multifamily ownership in the region–the industry now includes private equity funds and institutional investors. Collectively, these investors balance out the firm's diverse client base.The firm has evolved during the past 43 years to establish a major presence in the northeastern Pennsylvania and New York State submarkets as well as represent client interests throughout the Northeast and nation. While the firm primarily focuses on suburban/urban high-rise and garden-apartment properties, Gebroe-Hammer also markets mixed-use along with freestanding office and retail properties.
This laser focus on apartment buildings, regardless of vintage or tenant demographic, has yielded tremendous results and propelled Gebroe-Hammer to the forefront of its competitive set. The firm's market specialists cover the full spectrum of neighborhoods, from transit-rich cities that are all the rage among Millennials to commuter-friendly suburban-bedroom communities.
Gebroe-Hammer is led by president Ken Uranowitz, who joined the firm at its inception and has been tasked with carrying on the tenets of its iconic founders, Mel Gebroe and Morris Hammer. Rounding out the executive leadership are executive managing directors Joseph Brecher and David Oropeza, both of whom are highly regarded multifamily brokerage industry veterans as well as products of the firm's broker trainee program. It is the firm's brokers, who are deeply entrenched in their individual territories, that have driven Gebroe-Hammer's enduring success. Their unrivaled knowledge of market values and current active investors enables Gebroe-Hammer to achieve maximum value for owners and sales results that speak for themselves.