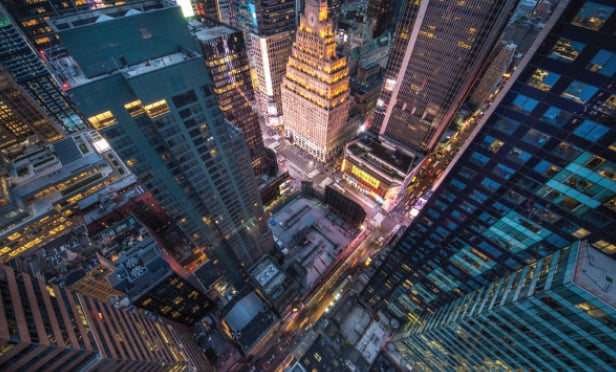 This is the web version of a feature that originally appeared in Real Estate Forum magazine. To see the story in its original layout, click here.
The "death of retail" warnings and store-pocalyse premonitions have taken their toll this year in New York as major retailers like Lord & Taylor, Toys "R" Us and Henri Bendel announced store closures including their iconic flagship locations. This has been a national story, of course, but in the economic jungle, the Big Apple in many way, is its own kind of animal.
With a record 62.8 million visitors last year, New York City maintains a distinction of reigning as a tourism and shopping capital of the world. New York also has the benefits of being the most densely populated city in the US, with 8.6 million people. That's a vast pool of consumers and potential shoppers.
Yet the city is not immune from national trends, like the Amazon effect or potential economic softening. So, what is the state of New York City's retail real estate and what lies around the corner? Experts tell Real Estate Forum that local retail faces many challenges—but has distinct opportunities as well.
"Consumers' habits have just changed. We are seeing new concepts that attract shoppers. Companies are listening to the needs of shoppers and are providing improved in-store experiences," says Faith Hope Consolo, the chairman of the retail group at Douglas Elliman. "The physical store is not going anywhere."
Consolo characterizes New York City as a place where brands are made and demand is strong. Stores close their doors. But that also means other doors open or reopen. For example, while Toys "R" Us closed in Times Square last December, another celebrated toy store, FAO Schwarz will reopen at Rockefeller Center in time for this year's holiday season.
In short, vacancies have allowed new retail to enter the city's neighborhoods. Available retail space has allowed Korean beauty brands such as Innisfree and Peach & Lily to move into the city. Riley Rose, Forever 21's beauty store that's now in Los Angeles, is considering opening a store in New York City, Consolo says.
Brick-and-mortar vacancies mean more affordable pop-up opportunities, notes Consolo, who is well-known for her success in this area. She worked with AYR, The Daily Edited, Finollo and Jennifer Tattanelli in their efforts to go from pop-up to permanent locations. Other "pop to perm" happy endings: British tailoring brand Thom Sweeney now at 362 W. Broadway; men's fashion store New & Lingwood at 970 Lexington; and SJP Collection by Sarah Jessica Parker at 93 South St. in the Seaport District.

All of these broader trends must be overlaid on a metropolitan retail landscape that is extremely varied by neighborhood and even, occasionally, by the street. "Micro-markets are what attract people," observes Richard Rizzuto, VP of retail services at Transwestern. "There is 100% not one retail in New York City."
Knowing what's happening with the city's retail requires close observation and knowledge of the neighborhoods. For example, at the moment there is weakness on Upper Madison, says Jeff Fishman, vice chairman of the private client group at Newmark RKF. "SoHo was decimated for a while. Now all of a sudden leasing people in our office are getting calls from tenants they represent about how they want to look at SoHo for $400, $500 per foot." They didn't want to look at $1,400 a foot, he adds.
As another example of the dynamic market, he explains Flatiron has become hot because its residential, office and retail demographics comprise residents and wage earners with money in their pockets. Meanwhile, Bleecker Street once was a cheaper alternative to SoHo. SoHo started to fill up, then the prices on Bleecker Street rose. He says a "follow the leader" approach often happens. "It's the old Burger King, McDonald's theory. You'd see certain retail go somewhere and another retailer would want to follow them. You see it with H&M and Zara."
"Times Square is as hot as can be," says Fishman. "Tourism is still driving the retail rents in Times Square. That's a strong, strong market."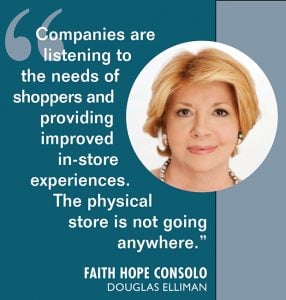 Brooklyn is another neighborhood that has begun to command higher retail rents because neighborhoods are attracting tourist traffic. Dumbo and Williamsburg are bringing in tourists during the evenings and weekends. Smorgasburg which bills itself as "the largest open-air food market in the US," says it attracts 20,000 to 30,000 people to Brooklyn each weekend.
Despite New York City's many retail strengths, empty storefronts still stick out like pockmarks on some of its most popular retail corridors. CBRE's Q2 2018 Manhattan Retail Report tracked the number of availabilities in 16 corridors that it monitors. The availabilities peaked in Q1 2018 at 208 spaces. For Q2, 2018, the number slightly decreased to 200 direct ground-floor leases being marketed. The report indicated that of these availabilities, 143 or 71%, had remained on the market for at least one year.
CRE professionals point to various causes behind the storefront vacancies: With the Amazon effect, consumers are shifting from brick-and-mortar to online purchases. New assets on the market such as Hudson Yards or Lower Manhattan's Financial District are luring tenants from older product. Landlords are charging rents that are too high, and holding out for tenants, like chain stores or bank branches. In some cases they have caved, lowering rents. Indeed, in its Q2 report, asking rents decreased in 12 of the 16 corridors that CBRE tracks, by 12.1% to $658 per square foot.
Attitudes have changed, especially with millennials desiring experiential retail and not particularly wanting to shop at their parents' department store. Nostalgia aside, was the decision to not just shrink but to close the Lord & Taylor on Fifth Avenue really all that surprising?
Or as Garrick Brown, a VP and Americas head of retail research at Cushman & Wakefield put it, today's retail challenges are not cyclical. "They are not about the economy. The economy is going on all four cylinders. The challenges are structural," Brown says. "The real hurdle is finding your way in this environment where it's either about experience or value. Concepts that are in the middle that don't offer a lot of either, they need to reposition themselves as value-oriented retailers or they need to boost their experiential offerings."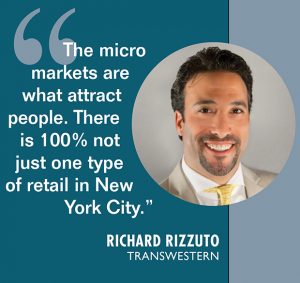 Not surprisingly in the least, with landlords lowering asking rents there have been pricing corrections. Marcus & Millichap's H2 2018 Retail Research Market Report found that well performing assets are receiving multiple offers, while highly discounted offers are coming in for the struggling centers.
Much has to do with whether the property is appropriately priced, says Fishman, who adds that as much as people read about the demise of retail, there has been an incredible influx of capital looking for retail assets. Fishman, who among other assignments was recently tasked with selling off New York REIT's Manhattan retail portfolio, says that his firm has been inundated with buyers interested in looking at retail properties. "When everything is hot it attracts a certain kind of buyer and this type of market attracts a different type of investment analysis," he explains.
For all its strengths, even New York has felt the impact of online retailing. Rizzuto, for instance, says the type of experience to which Amazon has gotten the marketplace accustomed is much more streamlined than browsing the aisles of brick-and-mortar locations. "People all know now you can sit on your couch and order just about whatever you like," he says.
The Amazon effect has been an undeniable factor in local retail. After filing its second bankruptcy, Radio Shack closed 552 stores nationwide, including 25 locations in New York City and Long Island. Similarly, America's largest bookseller, Barnes & Noble, in September reported that in Q1 of its FY 2019, its total sales of $795 million declined 6.9% compared to the prior year. Its closure of its bookstore in the Bronx in 2016 marked the departure of the last general interest bookstore in the borough of 1.5 million people.
Fortunately, instead of seeing the Internet as competition, retailers are learning to embrace it. "You can't even be a little hardware store on the avenue without a website, without a way to order something instantly. This change in retail has forced people to learn about the Internet and do things online," says Consolo.
CBRE's February 2018 US MarketFlash report attributes some of the rise in Internet sales—the US Census Bureau reports that online sales accounted for $453.5 billion, 8.9% of total retail for 2017—to retailers' omnichannel efforts, selling product online.
Of course, the reality is more nuanced than that. "The outlook for retail space is driven not so much by class designation as the type of product," says Chandan Economics founder Sam Chandan, whose current CV also lists posts as chair of NYU Schack Institute, partner at Capri Capital and a professorship at the University of Pennsylvania's Wharton School. "In terms of the degree of substitution from bricks and mortar sales to online sales, it's not as much the quality of the retail space as it is about the type of product that's being sold," says Chandan. "So, when we look at electronics, when we look at books, these are two assets, two product categories where we see the clearest substitution with online sales."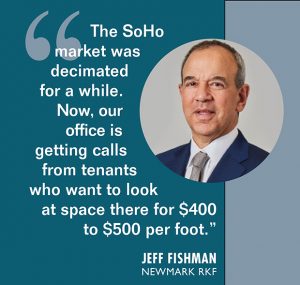 And it is a hard fact that regardless of innovative ideas and the possibilities of the Internet, 13 major retailers filed for bankruptcy this year "with more on the horizon," according to Cushman & Wakefield's September 2018 US Macro Economics Report.
These bankruptcies have had their inevitable effect on retail real estate: large department stores are leaving malls and while class A properties can backfill, class B properties are looking for tenants who generally gravitate to power centers—all of which increases the "discounter environment" of the shopping center, Cushman & Wakefield said. As for the class C properties, they are in an "increasingly dire" situation where "death spirals appear to be ramping up," according to the report.
More so than many other cities, there is a good chance that much of New York's struggling retail spaces will find a way to survive. Brown, for example, envisions that a more urban-feel, suburban-village concept will reinvent dying malls. Instead of a million square feet of pure retail, he sees possible multifamily, office and retail components. Mixed-use hospitality, medical centers and educational facilities could integrate with retail that is challenged.
Another trend predicted to bolster brick-and-mortar retail is a stronger blend of offline and online services in grocery stores, says Rizzuto. He points to Amazon's purchase of Whole Foods, and ShopRite's "shop at home" concept as examples. He also sees stores like Target and Walmart continuing to expand their food sections to improve the one-stop-shopping experience.
In particular, Consolo points to beauty, health and discount stores as growth areas. The beauty sector has been successful in generating persistent demand which has led to the opening of more brick-and-mortar locations. Consumers are also prioritizing health and embracing the concept of athleisure. "The 'sneakerization' of our culture is part of the growing influence of casual and streetwear," says Consolo. She points to the rise of sneaker culture with fashion moving away from the strict categorizations of formalwear and streetwear. Plus, malls are finding new life with health and fitness clubs opening in vacant spaces, she says.
Consolo sees off-price models, like Nordstrom Rack and Neiman Marcus Last Call, along with traditional discounters such as TJ Maxx continuing to attract shoppers with the lure of a "treasure hunt." This is an activity that customers cannot replicate online, she says.