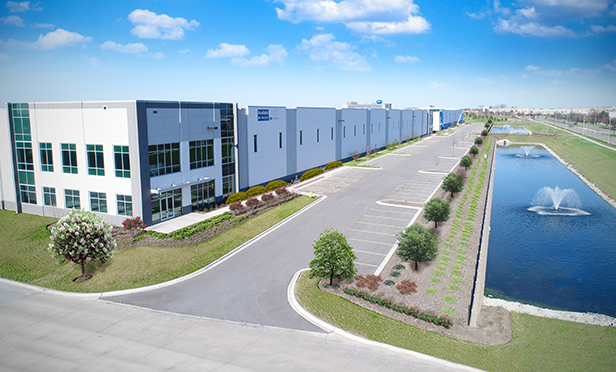 BOLINGBROOK, IL—Bridge Development Partners has acquired Fountain Square Commerce Center from a joint venture of Conor Commercial and investment manager LaSalle, for $73.5 million, or $99 per square foot. The property is a four-building, 740,700-square-foot state-of-the-art logistics center in Bolingbrook, IL, that was delivered to market in late 2016.
The sellers and transaction price were reported by Real Capital Analytics, a proprietary research database that tracks commercial real estate transactions
Bridge plans to develop a fifth building at the site on a speculative basis that will total 216,300 square feet, bringing the total size of the development to approximately 957,000 square feet across 67 acres.
The industrial center is surrounded by green landscaping, including a park with walking paths, wooden bridges, and multiple retention ponds with fountains to underscore the center's name.
Immediately following its acquisition of the site, Bridge signed two new long-term leases totaling 132,300 square feet within the existing buildings, bringing the total occupancy of the center up from 40 percent to approximately 60 percent. The transactions included:
A 98,400-square-foot lease with Bulletproof Logistics, a Quebec-based third-party logistics company. The transaction marks the company's third US location, and its first in the Chicago area.
A 33,900-square-foot lease with Industrial Battery Products, a St. Louis-based forklift industrial battery distributor.
"In addition to its picturesque setting—a very uncommon attribute in industrial real estate, Fountain Square Commerce Center sits at what is arguably the most attractive address for logistics businesses along the Interstate 55 Corridor," says Steve Groetsema, partner, Midwest Region, Bridge Development Partners. "Bridge saw an opportunity to add value by acquiring the site and making strategic improvements through new development and enhanced leasing operations, aimed at attracting a very diverse roster of logistics and manufacturing businesses."
The acquisition of Fountain Square Commerce Center was brokered by the Colliers International Investment Sales team led by Jeff Devine and Steven Disse. Bridge has retained the Colliers International industrial leasing team led by Jim Estes and David Bercu as the exclusive marketing and leasing agent for the property. The same team served as leasing agent under the previous ownership.
Fountain Square Commerce Center is situated along the Interstate 55 Corridor, home to the largest critical mass of corporate distribution centers within the "last mile" of Chicago. The site is ideally located at the midpoint between the City of Chicago and Interstate 80—approximately a 20-minute drive in each direction.