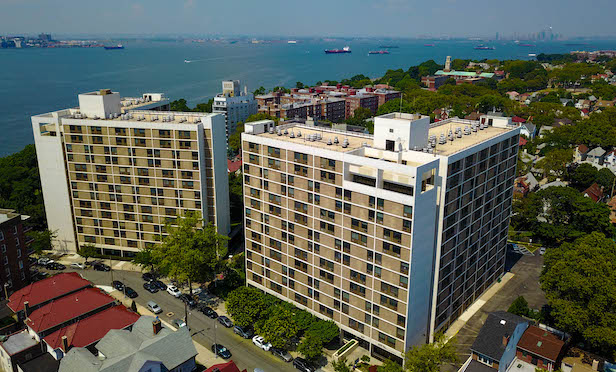 NEW YORK CITY—Jonathan Rose Companies, LLC, a developer and investor in sustainable, affordable and mixed-income multifamily real estate, the NHP Foundation, a non-profit which provides affordable housing to lower income working people, seniors and families, and Nuveen, the investment manager of TIAA, acquired Shore Hill Housing from NYU Langone. The buyers paid approximately $150 million for the two-building, 558-unit, HUD project-based Section 8 housing, located at 9000 Shore Road in Bay Ridge, Brooklyn.
Built in 1977 on 2.69 acres, the property comprises two connected 14-story towers totaling 414,127 square feet. The complex offers 325 studios and 233 one-bedroom units.
The acquisition was financed by a $102 million Freddie Mac loan arranged through Prudential. The Rose Affordable Housing Preservation Fund IV, the NHP Foundation and Nuveen will invest $52 million of equity in the property.
"We are making a long-term investment to preserve an important affordable housing property for seniors with a conventional debt and private equity execution," says Joshua Plattner, who led the acquisition for Rose.
The buyers' capital improvements will increase energy efficiency, reduce the carbon footprint, and enhance the resident services at Shore Hill. "We are excited about the opportunity to drive capital into this Brooklyn neighborhood, preserving a significant number of affordable units and improving the living standards of the residents in these buildings," says Pamela West, senior director with Nuveen's impact investing team. The company plans to continue to invest in similar assets across the country.
Rose Community Management, an affiliate of Jonathan Rose Cos., will manage the property. The partnership between the Fund and NHPF increases the capacity to provide services to residents. Operation Pathways, NHPF's resident services affiliate will oversee the services. This includes the community center, onsite transportation and connecting residents to other local health, wellness and support services.
"Partnering with Jonathan Rose Companies for the first time provides a tremendous opportunity for both of our organizations to showcase our strengths," said NHPF president and CEO Dick Burns. "We look forward to working together with them on other successful co-ventures."