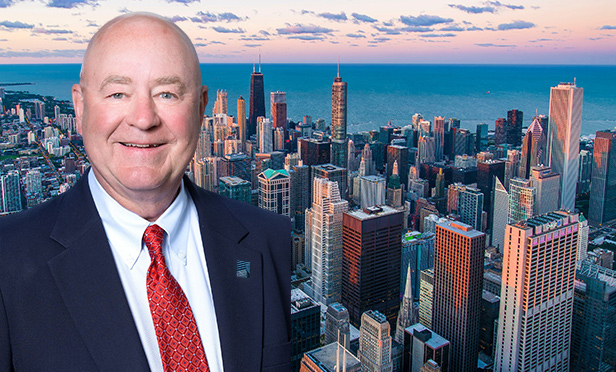 CHICAGO, IL—The ability to attract and retain talent is the top reason, by a significant margin, that companies come to Chicago, according to the latest Economic Impact series survey conducted by the Building Owners and Managers Association of Chicago, the trade association representing Chicago's commercial real estate industry. The study uncovers the reasons businesses are choosing Chicago for their base of operations and examines challenges facing the city.
The study indicates that more than 60 percent of respondents cited talent as the leading factor, while 15 percent selected access to customers, 12 percent named costs (such as build-outs and property taxes) and five percent chose branding (such as visibility or image).
Conducted in partnership with JLL Chicago Research, 37 companies from a wide range of industries—including finance, law, technology and manufacturing—provided direct feedback for the study through surveys, phone conversations and in-person discussions. This is the latest version of the Economic Impact Series with the first one released in 2006, followed by reports issued in 2012 and 2017.
"BOMA/Chicago continues to advocate for our members in dealing with the issues we all face each and every day in our city. Our Economic Impact Series is our way of identifying what's having a positive impact and shines a spotlight on the challenges the city and state must address to ensure a more prosperous future," says Michael Cornicelli, executive vice president of BOMA/Chicago. "Our latest report illustrates how Chicago—through its dynamic economic and cultural environment—is opening its doors for businesses to come here and thrive."
The report also found that Chicago's technology industry is the fastest growing sector in its economy and poised for future growth. This is due largely to availability of tech talent and a competitive wage scale that compares favorably to other top cities for tech employment. For example, the report found that operating a tech office in Chicago rather than Silicon Valley can save more than $46,000 per employee annually.
"Chicagoans know that our city is one of the most appealing in the world with a rich talent pool, easily accessible transit and airports, and top-notch universities, but it's assuring to have these benefits validated as strong indicators for driving business growth," says Robert Quast, president of BOMA/Chicago. "On the other hand, we must address the significant challenges facing our city—including political dysfunction, crime and property taxes—before the negatives start to outweigh the positives. Otherwise, we risk losing out on more lucrative companies coming here, bringing more job opportunities and ultimately, boosting our economy."
Respondents identified Chicago's dynamic culture as a top reason for its ability to attract young professionals. Its world-renowned restaurants, thriving music and theatre scenes and other cultural experiences are shown to have appeal with millennials, widely known for preferring experiences over goods.
The report also found that more young, educated professionals are choosing to move downtown over the suburbs in Chicago than any other city in the US. In fact, the presence of educated millennials living downtown grew 15.3 percent in recent years, helping the Central Business District (CBD) to grow faster than previous years. Currently, 79 percent of CBD residents have a bachelor's degree or higher, which is 30 percent above the national average.
In terms of the most attractive areas in and around the CBD, respondents weighed in on the submarkets currently having the most impact, and those positioned for further development:
Primed for more growth: Fulton Market has seen 36.6 percent population growth since 2010, more than any other location in the CBD. Meanwhile, River North experienced an increase of 14.8 percent. Collectively, the Central Loop and East Loop have seen a 14 percent rise, and the South Loop has grown by 11.8 percent.

Highest productivity – Nearly 46 percent of respondents named the West Loop as the most productive submarket for business.
Future prosperity – About 58 percent of respondents identified the West Loop as the most interesting submarket for the future, followed by River North (46 percent) and Fulton Market (34.6 percent).
How Chicagoans get to and from these submarkets—and the ease of that mobility—is an important consideration for businesses contemplating Chicago. Many respondents of the survey pointed to its accessible transportation system and nearby airports as a reason for establishing a presence in the city.
In sheer volume, O'Hare International Airport and Midway International Airport provided more than 1.1 million flights in 2017, trailing only New York. Meanwhile, Chicago outperforms both New York and Los Angeles in travel time with a 50-minute average driving time and an average of 40 minutes on public transit from downtown to Chicago's airports. While the city ranks better than national average on the American Society of Civil Engineers' Infrastructure Report Card, significant improvements are on the way, including a massive expansion at O'Hare, an express train from downtown to O'Hare, and a potential for more than $1 billion investment for Union Station and commuter rail improvements.
In addition to the strong indicators for business growth, the report also identified reasons why companies decide not to reside in Chicago. These challenges are often barriers to entry that need to be addressed, otherwise more companies may choose not to set up operations here. Survey participants named their top concerns facing Chicago, singling out three key areas.
Dysfunctional politics: Chicago and Illinois both have a history of political discord, resulting in a polarized environment that has driven a wedge between elected officials and disrupted compromise needed to pass fiscally sound budgets. Compounding this situation, Illinois has more units of government than any other state with nearly 7,000 governmental organizations creating identical and overlapping mandates.

Violent crime – Chicago has a national reputation for having startling violent crime rates. While overall crime in the city has dropped over the past 20 years, there has been an uptick in recent years. Violent crime is concentrated in certain areas of the city with the CBD experiencing one-third or less crime than parts of the south and west sides.
High taxes – Chicago has a long-term debt of $40.5 billion, which equates to $45,200 for every Chicago taxpayer, mostly due to pension obligations. To make matters worse, Illinois has a $216.1 billion shortfall, equivalent to $50,800 in individual taxpayer burden.
For more information on the 2018 Economic Impact Series and to access the full report, visit bit.ly/BOMAChicagoEIS.