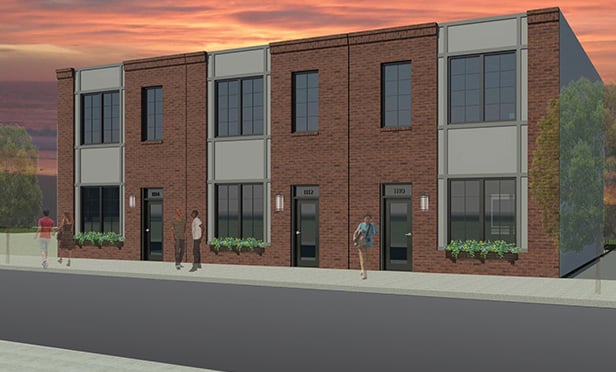 PHILADELPHIA, PA—Frankel Enterprises is beginning construction on The West Poplar Homes, a workforce housing development consisting of 26 single family homes priced below $230,000, at North 11th and Wallace Streets in the West Poplar neighborhood. In partnership with the Philadelphia Land Bank, Philadelphia Redevelopment Authority and City Council president Darrell L. Clarke, Frankel Enterprises is committed to creating quality housing opportunities for Philadelphia residents.
"Investing in Philadelphia's future has always been paramount to our mission," says Zachary Frankel of Frankel Enterprises. "The West Poplar Homes have a special significance for our company, as we emphasize our focus on opportunities in this city."
The West Poplar Homes will feature modern red-brick façades, reflecting the contextual design of the surrounding neighborhood while offering contemporary amenities and conveniences. The energy efficient three-bedroom, two-bath homes will include stainless steel appliances, sleek fixtures as well as patios and private rear yards. Mural Arts Philadelphia, working with residents, will create community-focused public art to echo neighborhood values.
"The Philadelphia Land Bank is excited to partner with Frankel Enterprises to develop over 20 units of workforce housing," says Angel Rodriguez, executive director of the Philadelphia Land Bank. "This development helps place City-owned land back into productive use, while increasing the city's housing stock. Workforce housing is vital to keeping our communities affordable for working individuals and families in great communities such as West Poplar."
The West Poplar Homes signify a reenergized focus by Frankel Enterprises in real estate development in Philadelphia. Max Frankel and Zachary Frankel will lead the company's strategic efforts in the region. Construction financing for the project was provided by The Reinvestment Fund with credit enhancement by the Philadelphia Redevelopment Authority.
"These 26 new homes will help ensure working families can continue to plant roots in Philly neighborhoods experiencing price appreciation," says Council president Darrell L. Clarke, who represents the 5th District and has long championed increasing the City's affordable housing stock. "Everybody deserves quality, affordable housing, and a chance to achieve economic stability to support child-rearing and plan ahead for retirement. I'm thankful for all of our partners in this endeavor, including Frankel Enterprises, who agree that balanced, equitable growth is not just the right thing to do, it's the best way to ensure Philadelphia's long-term health and prosperity."
"It is an exciting time to develop in Philadelphia," says Max Frankel. "Our family has a rich history of building high quality homes to last generations and we are thrilled to partner with the City of Philadelphia to reactivate vacant property to build high quality homes for working families."