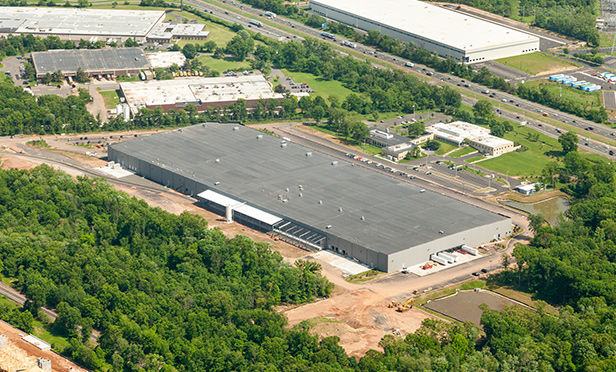 PISCATAWAY, NJ— Bentall Kennedy, on behalf of an institutional client, acquired a newly constructed, 452,000 square-foot industrial asset at 1 Turner Place in Piscataway, NJ, from a partnership of LaSalle Investment Management and Greek Development. Financial terms were not disclosed.
Cushman & Wakefield orchestrated the sale which drew strong investor interest, reflecting sustained demand for class A product in New Jersey's Upper 287 submarket.
Planned as a speculative development, the 452,000-square-foot warehouse/distribution property was fully leased by Cascades, a containerboard manufacturer, mid-way through its construction.
The tenant, a leader in the recovery and manufacture of green packaging and tissue products, subsequently invested approximately $80 million on building, infrastructure and manufacturing-related improvements. Cascades is North America's sixth-largest producer of containerboard – an industry forecasted to grow 25 percent over the next six years in direct correlation to e-commerce expansion.
"The property offered Cascades a superior building designed by the highly regarded Greek Development, access to heavy rail, high-volume natural gas, and labor," says Cushman & Wakefield's Gary Gabriel. The investment sales specialist headed the assignment with Andrew Merin, David Bernhaut, Kyle Schmidt and Mark Phillips of the firm's New Jersey capital markets team, along with Adam Spies, and industrial leasing experts Jules Nissim and Marc Petrella.
"These attributes – along with the long-term commitment and significant investment by such a strong tenant in a high-growth industry – attracted multiple rounds of bidding from institutional investors," says Schmidt, noting that the 287 Corridor has become a preferred location by investors and tenants alike. "Demand for 'last-mile' locations continues to spur demand for the region, as a result of its proximity to New Jersey's roadway network, and access to the New York MSA."
In fact, the 287 Corridor has emerged as one of New Jersey's best-performing industrial submarkets. Cushman & Wakefield Research Services reports a vacancy rate of just 0.7 percent, 2.25 million square feet in net absorption since January 2017 and 69 percent rent growth since 2014.