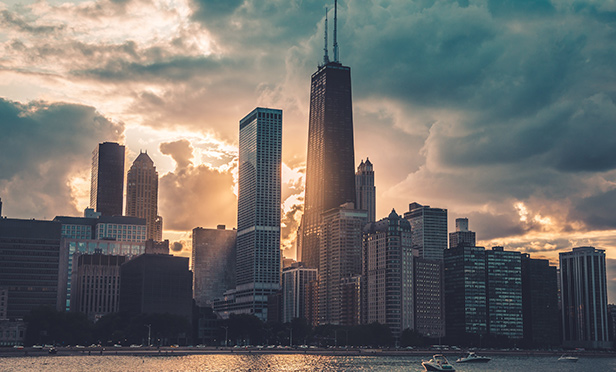 CHICAGO, IL—Chicago is outpacing the national averages for growth in hotel performance, according to CBRE Hotels Americas Research.
"By year-end 2018, Chicago hotels are forecast to see a RevPAR increase of 4.1%," says Mark Eble, managing director and Chicago practice leader for CBRE Hotels Advisory. (RevPAR is "revenue per available room.") "This is the result of an estimated increase in occupancy of 1.0% and a 3.1% gain in average daily room rates (ADR). The 4.1% advance in Chicago RevPAR is better than the national projection of a 2.8% increase."
Leading the way in 2018 RevPAR growth is the upper-priced segment of Chicago. The properties in this category are forecast to attain a 3.4% gain in ADR and see a 1.0% increase in occupancy, resulting in a 4.5% RevPAR increase. Lower priced hotels are projected to experience an ADR growth rate of 1.5%, along with a 0.8% gain in occupancy, resulting in a 2.4% RevPAR increase.
Looking towards 2019, Chicago RevPAR is expected to grow 1.8%. This is less than the rate of growth in 2018. Prospects for RevPAR growth in the upper-priced segment (positive 1.8%) are better than in the lower-priced segment (positive 1.6%). Chicago market occupancy levels are expected to range from 67.9% to 69.1% during the 5-year forecast period.
CBRE is forecasting the nation's hotels generally will enjoy a 10th consecutive year of growth in 2019. According to the December 2018 edition of Hotel Horizons, US hotel occupancy will rise to 66.2% next year, a fifth straight record level. The growth in occupancy is primarily the result of a projected 2.1% increase in demand, more than enough to offset an estimated net increase in supply of 1.9% for the year.
"It all starts with the demand for lodging accommodations. Without leisure, corporate and group travelers on the road seeking hotel rooms, there is no need to worry about all the other performance metrics," says R. Mark Woodworth, senior managing director of CBRE Hotels Americas Research. "From 1988 through 2017, the average annual gain in accommodated room nights in the U.S. was 2%. For 2018 and 2019, we believe demand growth will exceed this long-run average."