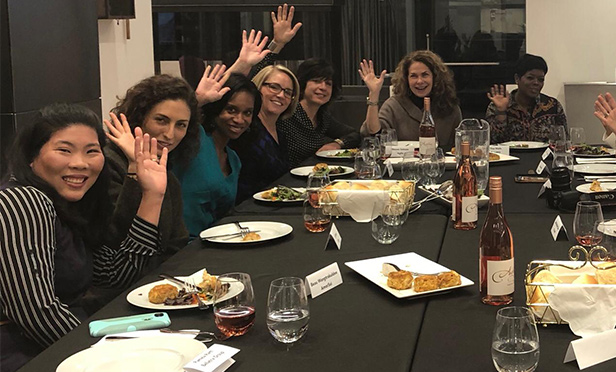 PHILADELPHIA, PA—Women executives and entrepreneurs gathered at THE ROOM at ONE Liberty Place to exchange ideas and share experiences as Cushman & Wakefield hosted a recent Wonder Women Philly Dinner. The event was part of an ongoing series curated by Yao Huang, founder and CEO of The Hatchery, a New York City-based innovation group,.
THE ROOM, a tenant-exclusive amenity which opened earlier this year, offers sophisticated features and services unmatched by any other commercial property in the Metro Philadelphia area. Designed by the award-winning Philadelphia-based architectural firm Bohlin Cywinski Jackson, the space features two conference rooms, a Library Lounge, an open co-working area and bar.
"We were excited to make this private space available for this intimate gathering," says Missy A. Quinn, senior managing director, asset services at Cushman & Wakefield. "THE ROOM provided the perfect setting for an evening designed to foster meaningful conversation and relationship building. I personally enjoyed connecting with so many fascinating and successful women professionals and discovering how much we had in common."
The Hatchery invests in, advises and builds companies in the areas of artificial intelligence, machine learning and big data. Yao leads the firm's enterprise incubator and works closely with foreign consulates and trade and investment offices in 13 countries around the world. She has a particular passion for helping entrepreneurs and social causes with projects in place to build global communities, and to help propel more women into executive positions.
"I launched the Wonder Women initiative 12 years ago, when women who were breaking the glass ceiling often found they were going it alone," says Yao. "I gathered together about 20 women from diverse industries in an environment that was intentionally relaxed and fun, so folks could expand their relationships beyond work as well as help others advance their careers."
Today Yao hosts invitation-only Wonder Women events in 14 cities, including New York, Philadelphia, Chicago, Los Angeles and London.
"Those who attend the dinners have included the founders of companies, venture capitalists, heads of innovation at Fortune 100 companies, even a chief of staff to a country's president," says Yao. "Women relish the opportunity to enjoy good food and good company, as well as to support one another's growth and success."