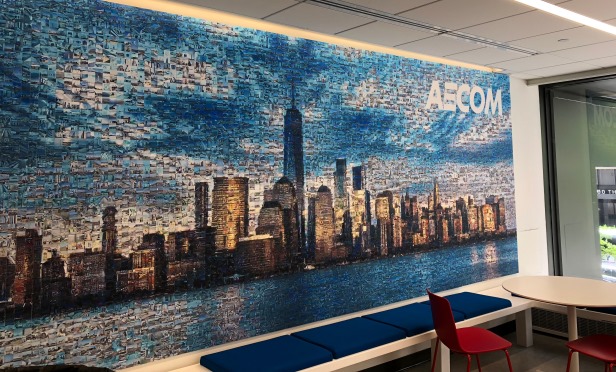 DALLAS—When examining what specific real estate is adapting to tenant needs, it might be easier to list the property types that aren't changing in the face of rapidly evolving space requirements. But in fact, most all industry categories are undergoing some type of bolstering to keep up with current prerequisites, whether that be technology, transit, mobility, e-commerce or entertainment.
In this exclusive, Sandra Parét, senior vice president, corporate market sector for AECOM, recently discussed the changing office workplace and how it is evolving to meet the needs of users. For starters, she says the work scene is becoming less formal. Companies are adding more casual work settings to support a larger variety of work styles. Numerous tech companies and financial services clients are exploring these options to better suit a multigenerational workforce.
Also, companies are integrating branding into physical space elements around the office. First, this creates a visual brand experience for potential applicants, new hires and current employees who are in the office.
"For example, in our own offices, we emphasize our brand through integrated graphics displaying our company values, projects we have completed and community service opportunities," Parét tells GlobeSt.com. "Second, the company branding teaches employees to live the brand daily. This aspect makes the company culture unique and memorable."
Parét says open office plans will continue to be around but will be more flexible than ever, both from the "kit of parts" to create the space and from the plug-and-play ability to change the space when functional needs change. The workspace will stay flexible for two reasons, she says. First, employees need a flexible space for activity-based tasks and it's easier to collaborate with other team members in this setting. Next, the flexible space optimizes real estate portfolios. A reduction of square footage can occur if utilization studies show that workers only spend a portion of their days, if any, in actual work spaces.
Further, meeting rooms will be physically flexible in a sense that walls can open and close as needed to in increase collaboration or maintain privacy. Technology will be key for these rooms to function most effectively for any user group, Parét points out.
Also, work spaces will be designed for specialized teams or various work groups. For instance, while workstation components remain consistent, the support spaces can be used in different ways.
"A conference room for one group may be a storage room for a different group," Parét tells GlobeSt.com. "The key is planning consistency and flexibility."
Another part of the flexible office is creating a healthy environment to promote body movement for a better work/life balance. This can be done in several ways, she points out. Examples include vertical transportation, i.e. connecting stairs, healthy food options in the company's cafeteria and furniture selection, such as sit/stand desks.
Lastly, spaces will be tech enabled beyond the audio visual set up, Parét predicts. Today's technology provides smart settings for rooms, including lighting, temperature, noise reduction and other features, all connected to an energy-efficiency program to minimize costs. Special glass coating is used to prevent screen content from being readable outside the room, providing a level of privacy without completely blocking lines of sight.
Another technology element is data analytics being incorporated into rooms to monitor activity. Future spaces will be designed appropriately and underutilized spaces will be repositioned.
A final thought centers on the educational influences in the workplace, Parét says.
"How companies hire new graduates into the workforce does not yet provide the work settings in which those grads have been most productive through their educational years," she tells GlobeSt.com. "An example is groups versus team environment. New graduates are adept to working in groups, not necessarily teams. In other words, a group can be seated in the same common area, all working on different tasks, but still having social interaction. For new hires to be successful, the environment they've worked in while in college should be explored as a planning concept in the office environment."
According to Savills Studley's third quarter office market report, Dallas-Fort Worth deal volume remained on par with the long-term historical average, totaling 3.5 million square feet but fell from the strong second quarter mark of 4.2 million square feet. Despite the slight drop in the third quarter, tenants have leased 14.6 million square feet in the four most recent quarters.
The overall market availability rate increased by 20 basis points from 25.2% to 25.4%. The continued flight to quality pushed the region's class-A availability rate down by 60 basis points to 24.8%. The overall asking rent ticked up by 0.1% to $24.17, but jumped by 1.8% year-on-year. The average class-A asking rent remained at $26.30, but rose by 1.4% year-on-year, says the report.