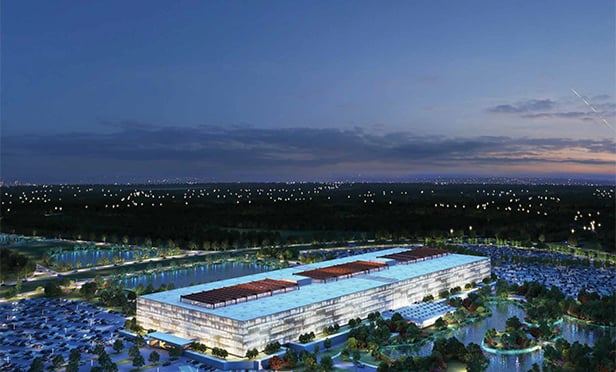 HOLMDEL, NJ—Laser manufacturer IPG Photonics has become the newest tenant to join the Bell Works office community. Set to occupy 20,000 square feet of the mixed-use 'metroburb'–a self-contained metropolis in suburbia –its lease pushes Bell Works over the one million square-foot leasing mark, and brings another technology company back to the historic research site.
The foundations for modern laser technology were built by researchers Charles Hard Townes and Arthur Leonard Schawlow, whose early work in 1957 for Bell Labs involved researching the infrared laser. They abandoned infrared radiation to instead concentrate upon visible light. The concept originally was called an "optical maser." Townes and Schalow received a patent for their work in 1958, and much of Bell Labs' later research into lasers took place at the Holmdel facility.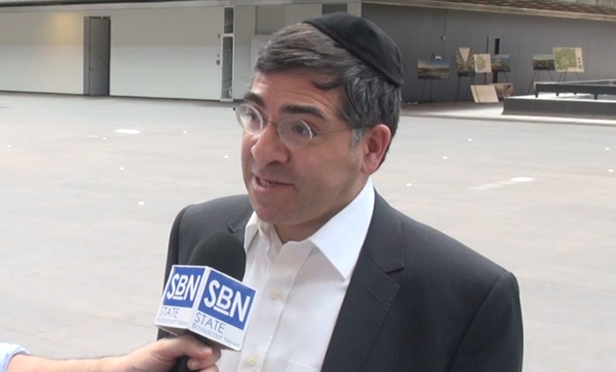 "We are extremely excited to welcome IPG Photonics to Bell Works, and bring yet another global, groundbreaking technology company to our state-of-the-art campus," says Ralph Zucker, president of Somerset Development. "This lease also represents an important milestone for our building, as we have now officially leased more than one million square feet of its space. This is a momentous occasion for a nationally renowned building that sat empty just five years ago, and a true testament to our vision and the success we have enjoyed in turning the metroburb into a reality."
Slated to join the Bell Works community in the second quarter of 2019, IPG Photonics manufactures high-power fiber lasers and amplifiers used in materials processing, communications, entertainment, medical, biotechnology, scientific and advanced applications. In addition to its office at Bell Works, the global company maintains manufacturing facilities and regional sales offices in Germany, Russia and Italy, and regional sales offices in China, Japan, Korea, Taiwan, India, Turkey, Brazil, Mexico, Singapore, Spain, Poland, Czech Republic, Canada, and the United Kingdom.
"It's truly an incredible opportunity for IPG Photonics to call an iconic building like Bell Works our home," says IPG Photonics vice president Ekaterina Golovchenko, a former Bell Laboratories employee who worked at the Holmdel campus as a director of engineering for three years. "We're thrilled to be a part of a thriving community with a rich legacy of technological innovation, and look forward to adding our own chapter to its history as we continue to grow."
With the addition of IPG Photonics and other recent tenants, office space at Bell Works is now more than 80 percent leased.
"The Bell Works metroburb is a one-of-a-kind destination and office environment—combining urban convenience with suburban calm amid a mix of office space, dining and shopping options," says Jeff Garibaldi, president of The Garibaldi Group. "With IPG Photonics now joining its growing roster of innovative companies, it's evident Bell Works offers the kind of live-work-play environment that first-class office tenants are seeking today."
Garibaldi, and his vice presidents Tara Keating and Kyle Mahoney represented both Somerset Development and IPG Photonics in the transaction.
Besides office leasing, Bell Works' quarter-mile long atrium and 'pedestrian street' continues to see retail momentum. In November, Bell Works welcomed Hummus & Pita Co., officially becoming the popular Mediterranean chain's first New Jersey location. More retailers are set to open for business later this month, including Dimension Dental, a premier dental support organization and Alchemist Jewelers, a fine jewelry boutique.
In early 2019 a host of new retail tenants will also join the pedestrian street, including: OceanFirst Bank, a community bank offering commercial and residential financing solutions; Holmdel Florist, a shop offering beautiful floral arrangements for any occasion; and The Bar Method, a popular exercise boutique offering specialized barre classes and group fitness. January will also see more dining options on the pedestrian street including Mexican restaurant Estrella Azul, and sister restaurant Mezza Luna, which will offer classic Italian fare.
Already, Bell Works' tenants and visitors alike can take advantage of the convenient retail options in the building, like Salon Concrete, a hair salon offering professional cut, color and styling for men and women, and City Barn Country Penthouse, a boutique offering home, bed, bath and other gift items.
Plus, visitors and workers at Bell Works can choose daily from a variety of dining options in Bell Market, a food hall spearheaded by Richard and Chantelle Corbo of RBC Hospitality, which features: Honeybell Bakery, baked goods and coffee; Broadfork, fresh made-to-order salads; Jozu, poke bowls and traditional sushi rolls; Bubz Deli, customizable subs and deli sandwiches; and Corbo & Sons Pizza, brick-oven baked pizza and bread.
With the addition of new office tenants and retail options, Bell Works, formerly the historic Bell Labs research facility, continues its dramatic transformation into a 'metroburb.' With its location, unique architecture and expansive design, it's also quickly becoming a destination for events, from regional networking seminars to community gatherings. The recently completed, fully-modernized 40,000 square-foot conference and event space further enhances Bell Works as a premier event venue. Meanwhile, the building will soon house a 186-room hotel on its rooftop along with a restaurant, bar, lounge area and infinity pool—all with incredible panoramic views of the surrounding campus.
As the building's transformation continues leasing momentum has kept pace—with more than 70 signed tenants, as well as 80 percent of office space and 40 percent of retail space leased. Today, the building welcomes more than 3,500 workers daily, in addition to regular visitors interested in shopping, dining or perusing the weekly Farmers Market. Hosted every Wednesday in the main atrium, the market includes wares from dozens of local vendors and small businesses. Also, a popular destination for Holmdel residents, Bell Works is the new home to the Holmdel Library and Learning Center and the Holmdel Montessori school.
Originally constructed between 1962 and 1964 by world-renowned modernist architect Eero Saarinen, the building is revered for its role in spurring the development of some of the world's foremost inventions and research concepts. In its 40-plus year history as the research headquarters for Bell Laboratories, Lucent, and Alcatel-Lucent, the building housed a total of seven Nobel Prize winners, including those who conceived the Big Bang theory, cellular technology, the transistor, and more.
Situated along Crawfords Corner Road, Bell Works is approximately one mile from Exit 114 of the Garden State Parkway. Its central New Jersey location provides easy access to points north and south.