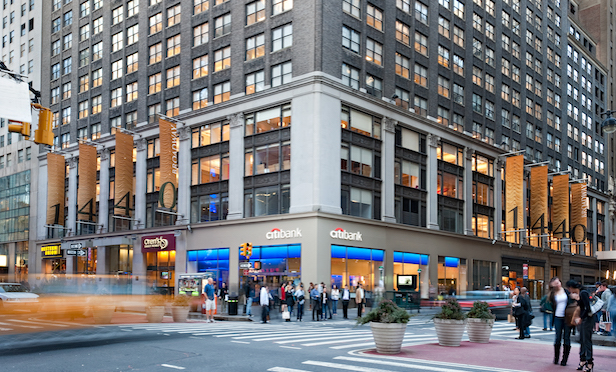 NEW YORK CITY—WeWork has signed a long-term lease for 236,000 square feet of newly renovated space at CIM Group's 1440 Broadway. The co-working office space provider will have a presence on the first and second floors and occupy the entire 14th through the 21st floors. The floor plates range from 10,636 square feet to 30,789 square feet. WeWork will also have its own private entrance, lobby and dedicated elevator access.
Built in 1925, the 25-story, 747,000 square-foot building is located at the corner of Broadway and 40th Street in Midtown South. Other tenants at the property include the corporate offices of Macy's, Gap, Inc. and Mizuho Capital Markets.
CIM acquired 1440 Broadway in December 2017 for $520 million, according to Real Capital Analytics. It is currently renovating the entrance and lobby and constructing a rooftop deck. The property improvements are scheduled to be completed in the first quarter of 2019. WeWork expects to open the space to members in the summer of 2019.
"Given the exceptional demand we're seeing from companies wanting to be based around Bryant Park, we have continued to expand our presence in the area. Today, we have over 10 locations within a 10-minute cab ride from the park, and 1440 Broadway will be among the largest of these," says Granit Gjonbalaj, chief real estate development officer at WeWork.
Headquartered in Los Angeles, CIM has repositioned several offices in New York City, including 11 Madison Ave., where in 2011 it acquired a 49% interest.