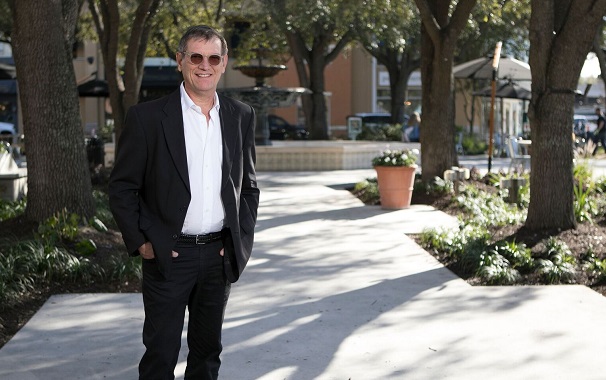 Landscape architect David Conner has done a lot of high-profile work around Florida. He has noted an obvious trend: Developers are looking for ways to make their projects walkable, livable and sustainable for the long-term. At Tampa's Hyde Park Village, Conner and his firm, David Conner & Associates, worked with API(+), Smith Dalia Architecture and WS Development to create a memorable Village Circle, with features like high-quality pavers and materials designed to ensure that tree roots wouldn't impact roads and sidewalks over time. Here, he discusses how design requirements are getting more sophisticated and other topics.
GlobeSt.com: Is it getting more difficult to convince clients to devote more of their budgets to make outdoor spaces special? How do you handle those conversations?
David Conner: Budgets are certainly getting tighter. But the good news is more and more clients realize the need to have engaging outdoor spaces as a key part of long-term usability. This extends to office buildings, too – we are finding that employers looking to attract high-quality employees know they need to offer an engaging workplace, both indoors and outdoors.
GlobeSt.com: In what areas do you see project budgets being cut where they shouldn't be?
Conner: Our responsibility is to advise our clients on how best to spend the resources they have. We find that process to be very creative. Our goal is finding ways to make a place very special without overspending. At the same time, we advise our clients on how they should be designing their projects for the long term.
Too often, developers feel the urge to get the instant bang without planning for 5 or 10 years down the road. We hope to create developments that increase in value over time as they mature while requiring minimal maintenance for tree roots or other common problems.
GlobeSt.com: You have been involved in work for Strategic Property Partners, the company behind the new Water Street development in downtown Tampa. How do you like working on that project?
Conner: It's exciting to see the thought and care that's going into Water Street. For years, Florida was known for strip malls and cookie-cutter buildings, but that is changing. With developments like Water Street, built with sustainability and walkability in mind, we are seeing Florida become more sophisticated in terms of design and planning, which is great to see. For Florida's cities to compete with the rest of the country, this is absolutely needed.
GlobeSt.com: What are common mistakes developers make in working with landscape architects?
Conner: Sophisticated developers get it. They understand the role that landscape architects play and realize the value of having a landscape architectural vision for the place.
Occasionally, we are asked to join a design team later in the process after the planning and visioning has been completed, and those projects often indicate a client that may need a shorter-term solution. We can help them, too, but we approach a project differently. Being involved early, while leveraging deep experience, is critical to knowing the best solution for the client's needs.
GlobeSt.com: What new projects are you working on, and what do those projects say about the state of the Florida economy?
Conner: We are working with a large company with office locations across the country to implement new designs for the millennial worker. It's fascinating work and we are enjoying it a lot. That work really builds on our university work for outdoor spaces, which function to include work and play together.
We are working on the new downtown Orlando campus for the University of Central Florida, which will transform an entire section of the city. Universities are continuing to grow around the state, leading to major opportunities for companies in architecture, planning, engineering, construction and real estate development.
We are also working on a project for a school in Aguadilla, Puerto Rico, which will encourage students there to do more learning outside. We are finding that Florida companies are seeing opportunities for more and more work in Puerto Rico.
GlobeSt.com: Are there any particular challenges you have as a landscape architect doing work in Florida?
Conner: Florida is very different. I moved here from a northern state nearly 35 years ago and I am still learning about our environment. Sandy soils, intense rain and very hot days are realities for much of the year. Our designs must work for our clients during the summer as well as during our beautiful winter months, and that can be a challenge for designers who come from northern climates.
GlobeSt.com: What is your message for developers when they want to cut corners on outdoor spaces?
Conner: Work to find a solution that will get better with time; it's okay to spend less when the idea is sound. It can be a catastrophe to build the wrong project, no matter what the cost.
Thankfully, one benefit for landscape architecture is that it can evolve and change more easily than buildings or structures.
With this in mind, if the development budget is tight, concentrate resources in areas with the greatest short-term reward. Then, after success has been proven and finances ease up, revisit areas of the project that couldn't be funded