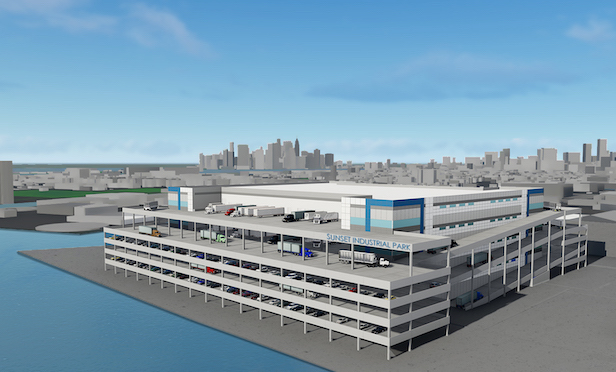 NEW YORK CITY—They're taking multistory distribution centers to a whole new level. With four floors, it will be the largest of its kind in the US, according to Bridge Development Partners and DH Property Holdings, and their equity partner Banner Oak Capital Partners. They closed on the acquisition of an 18-acre site, called Sunset Industrial Park, to build a four-level, up to 1.3 million square-foot warehouse. A source with knowledge of the deal tells GlobeSt.com the seller was 601W and the price was $255 million.
The site's address is 50 W. 21st St., in Brooklyn, which is on Third Avenue between 19th and 21st streets, along the Gowanus Canal.
Developers will demolish the existing structures on the property, starting in early 2020. By the end of next year, construction on the ground-up development of the massive, multistory facility is expected to begin. A uniquely designed, intricate ramping system will allow each of its four floors to be fully cross-docked and directly serviceable by full-size tractor trailers. The lower two stories of the facility will have 32-foot clearance heights. The upper two stories will be built with a 28-foot clearance.
"This will be a groundbreaking project for the US industrial market, not only because of the building's unprecedented design—essentially, four separate, stacked distribution centers—but also because of the enormous benefit it will have from a 'last mile' standpoint," says Jeff Milanaik, partner, Northeast Region of Bridge Development Partners.
He points out as e-commerce companies compete to meet demands for same-day and even two-hour deliveries, the facility will provide its users last mile access to New York City's dense consumer base including in Williamsburg, Long Island City and Manhattan.
"Demand for best-in-class distribution space in New York City's outer boroughs has surged, as the major e-commerce users continue to heighten their focus on last mile delivery operations to service the city's consumer populations," adds Tony Pricco, president of Bridge Development Partners. "Bridge, in partnership with DH Property Holdings, plans to be at the forefront of last mile development in the outer boroughs, and we are actively pursuing additional acquisition and development opportunities in the area."
Dov Herz, president of DH Property Holdings, points out that the site is within five miles of the Verrazano bridge and within a one-hour drive of 13 million consumers. "It sits at the nexus of the inbound and outbound traffic needs of any third-party logistics, parcel carrier, or retailer looking to meet same, or next day delivery in New York City," he says.
A JLL team led by Rob Kossar, Aaron Appel, Jonathan Schwartz and Mo Beler advised the purchasers on the acquisition, arranged financing, and will handle the leasing and management of the project. Additional team members include Leslie Lanne on leasing, and Angela Alfano on property management. Banner Oak Capital Partners provided the equity and Apollo Commercial Real Estate Finance is providing the project's debt.