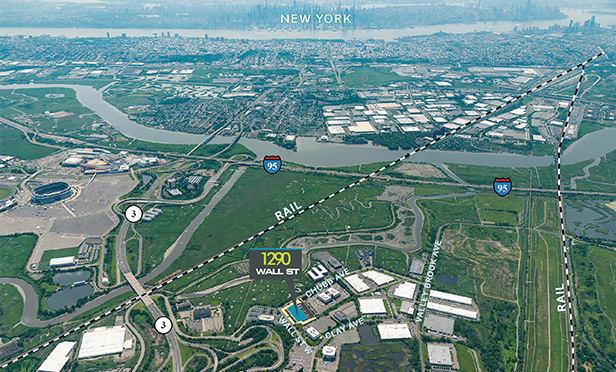 LYNDHURST, NJ—Gramercy Property Trust Blackstone Group is buying a 5.67-acre development site at 1290 Wall Street in Lyndhurst, NJ, from Rugby Realty Company for $8 million.
Brian Fiumara, Michael Hines, Brad Ruppel and Lauren Dawicki of CBRE Capital Markets' Institutional Properties team and CBRE National Partners, along with CBRE vice chairman Thomas Monahan, negotiated the transaction on behalf of the seller.
The site can accommodate 85,400 square feet of class A warehouse/distribution space. Located in one of the premier gateway markets in the United States, 1290 Wall Street provides direct access to the largest and most concentrated consumer and business base in the country, with its vast logistical infrastructure, including a network of interstate highways, deep-water cargo ports, intermodal terminals and air freight capabilities.
"This transaction is a reflection of the continued interest investors have expressed in Northern New Jersey and, more specifically, the thriving Meadowlands submarket," says Fiumara, a CBRE executive vice president. "We anticipate even more activity in this region over the course of 2019."
"When we first acquired the property, we analyzed the market and anticipated strong growth potential in Lyndhurst," says Maurice Ades, principal and managing partner of Rugby Realty Company. "Our evaluation proved to be absolutely correct. Working closely with CBRE, we were able to market this ideally located site and close on the sale with new ownership that also sees the same potential."