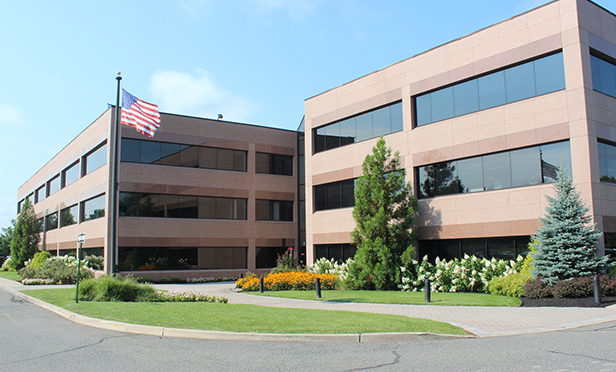 BRIDGEWATER, NJ—Leasing activity remains brisk at 685 Route 202/206, a newly-updated 140,000-square-foot office building in Bridgewater, NJ, reflecting the desirability of the property and area, according to Cushman & Wakefield, which is marketing the three-story asset to tenants.
Recent commitments have totaled more than 48,000 square feet; the activity comes on the heels of the lease expiration and relocation of Samsung Mobile. The commercial real estate services firm's William O'Keefe, Raymond Trevisan, Charles Parmelli, and Jackie Madden, based in Morristown, NJ, head the leasing effort for 685 Route 202/206.
In the largest transaction, C Technologies Inc., a designer and manufacturer of fiber optic assemblies, instrumentation and systems, leased 24,000 square feet of headquarters space at the property.
LightSpeed became the building's most recent tenant when it leased more than 18,000 square feet. Specializing in the supply of quality litigation support services and technical expertise to law firms nationwide, LightSpeed was attracted to the modern infrastructure, furniture and value-added upgrades previously performed by Samsung.
Also leasing 6,000 square feet for demonstration, training and customer service operations is international medical device manufacturer Nipro Medical Corp. "Nipro needed a multi-functional space to serve the needs of their renal products group which could not be accommodated in their current location," says Parmelli. John Osborne of Bergman Realty served as tenant broker in the lease.
The property's owner, KRE Group, recently competed a series of amenity-centered updates to 685 Route 202/206 including a complete renovation of the sky-lit atrium lobby, which brightened the space considerably and added comfortable collaborative workspaces and furniture for occupants to use outside of their offices. The lobby upgrade allows the space to comfortably accommodate social, collaborative and business gatherings with free Wi-Fi and charging stations throughout. The building already benefited from a full-service cafeteria with indoor and outdoor community spaces, free shared conferencing facilities and now also has a new coffeehouse style lounge within the cafeteria.
"KRE Group has a deep portfolio in this marketplace and is in-tune to the marketplace, which has given the real estate investment and management company an in-depth understanding of the necessities required to succeed and thrive in today's corporate environment," says O'Keefe. "This newly-modernized property accommodates the high-tech nature of businesses in an open, comfortable setting that is also easily accessible to the area's many great dining, shopping and entertainment options."
Situated in the heart of Somerset County and visible from I-287 and near the I-78 and Route 22 interchanges, 685 Route 202/206 is just minutes away from wide-ranging recreational, hospitality and retail amenities including more than 175 stores and restaurants at the nearby Bridgewater Commons Mall.