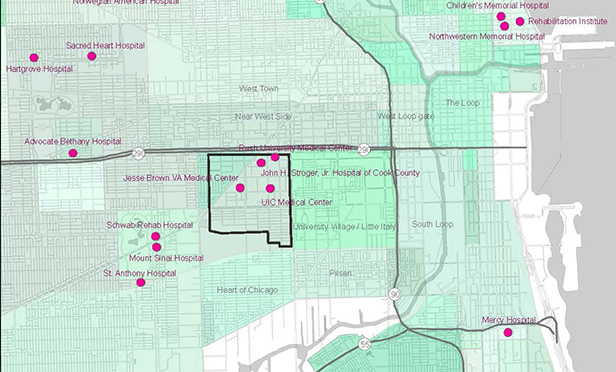 CHICAGO, IL—The Illinois Medical District has launched a new brand identity to better support its strategic vision to grow a global healthcare innovation cluster. The branding now reflects the value the IMD brings to its partners as one of the nation's most resourceful, innovative and effective innovation districts.
"IMD is already a rarity as a place where entrepreneurs and established leaders work side-by-side towards the same goal—to drive medicine forward," says Suzet McKinney, Dr.P.H., IMD's CEO/executive director. "Our goal is to not only establish the District as the consummate home to a growing life sciences industry in Chicago, but to make it a global center for innovation and collaboration."
According to its master plan, the Illinois Medical District is located less than two miles west of Chicago's downtown loop and is the largest urban medical district in the country. This special-use zoning district consists of 560 acres of medical research facilities, labs, biotech business incubator, raw development land, universities, and more than 40 healthcare related facilities. The District is a 24/7/365 environment that includes four world-class medical centers and hospitals, with convenient access to public transportation and major expressways.
The four major stakeholder institutions in the district are Rush University Medical Center; University of Illinois at Chicago – West Campus; Jesse Brown Veterans Affairs Medical Center; and John H. Stroger, Jr. Hospital of Cook County.
By strengthening its branding with assets that include a new website that shows future partners why and how to "reside" in the District, and a flyover video that illustrates what it can become shaped by those new partners, the IMD is highlighting its offerings, emphasizing its potential and establishing a strategic blueprint for growth.
With more than 40 healthcare organizations, including four world class hospitals, two highly respected health sciences universities, educational facilities, research labs and a biotech business incubator, the IMD already offers a rich ecosystem for medical and life sciences innovation. By forging new partnerships with local and state government, universities, life sciences industry leaders and neighboring communities, it hopes to become the apex of healthcare innovation not only in Chicago but the United States.
The IMD's redesigned website shows future partners the exceptional opportunities residence in its borders presents and how to establish roots or relocate to the District. It also highlights the full suite of new branding assets, including a redesigned logo, the flyover video and visual representations.
"Unifying multiple and often disparate entities into an ecosystem—from major institutions and corporations to entrepreneurial startups and service businesses—is already a challenge. Our new branding shows how we are already developing effective solutions to nurture the wants and needs of our current partners. Yet at the same time, it also shows potential newcomers our deep assets and conveys the benefits of locating in a vibrant, interconnected innovation district," McKinney says.
In addition to its existing facilities, the IMD has 31 acres of land available for development. It is working closely with CBRE to transform this land into usable facilities that will facilitate a life sciences ecosystem to rival any in the country. The new flyover video most clearly illustrates the scope of opportunity in the IMD and highlights its bright future as a major center of life sciences innovation.