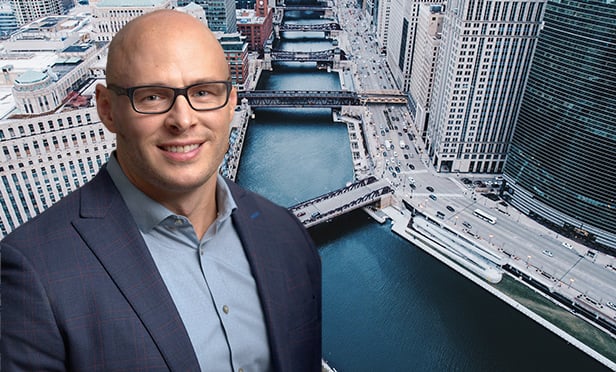 CHICAGO, IL—San Francisco, CA-based Skyline Construction is expanding into the Chicago market with the launch of ACCEND Construction, which will have a significant component of employee ownership.
ACCEND is a general contracting firm with a fresh philosophy and approach to commercial construction led by Andy MacGregor, an industry veteran who has headed some of Chicago's largest projects in this space.
By utilizing an Employee Stock Ownership Plan, ACCEND says it is one of very few general contractors to offer every employee the opportunity to be an owner.
MacGregor brings 20 years of experience in the Chicago construction market to ACCEND. He led teams to build some of the region's largest, most complex and creative tech spaces including 1871, Facebook, Google and Motorola Mobility's world headquarters at the Merchandise Mart, one of the largest interior spaces ever built in the city.
He also led teams to build notable projects for JP Morgan Chase, Dentons and Fletcher Jones, among others. MacGregor was motivated to branch out on his own to build the company he always envisioned and shake-up the industry's status quo, which has typically rewarded firm partners, not the entire organization.
"I love this industry and this city, and I'm thrilled to bring a new way of doing business to Chicago by launching ACCEND," says MacGregor. "My philosophy is that you invest in your employees, nurture talent, take care of your clients and work your tail off. You plan carefully upfront to make the construction process easier and you strive to make everyone you interact with better in some way. Our ESOP model is foundational to that philosophy because it inspires and motivates employees to go above and beyond – to innovate and act as true client partners and advocates."
ACCEND has expertise in commercial interiors, hospitality, new construction, heavy renovation and consulting. As a subsidiary of Skyline Construction, ACCEND offers construction services under an umbrella that is well established, financially sound and committed to the Chicago marketplace, with the added benefit of serving clients in both regions.
"Strategically this is a great move for our ESOP shareholders. There's no better market for Skyline to invest in right now than Chicago and no better person to lead the team than Andy MacGregor," says David Hayes, Skyline Construction's CEO. "We have big goals for ACCEND, a robust balance sheet to support the expansion and the full support of our board of directors and executive leadership. We can't wait to see the impact Andy and his team will have on the Chicago market. Many of our existing Bay Area based clients are excited about this office and offering us the opportunity to partner in Chicago."
Skyline, one of the few major construction companies in the business that offers an ESOP to every employee (including collective bargaining employees), says it will continue to expand this model through subsidiaries like ACCEND, pioneering a new employee-centric way of doing business.