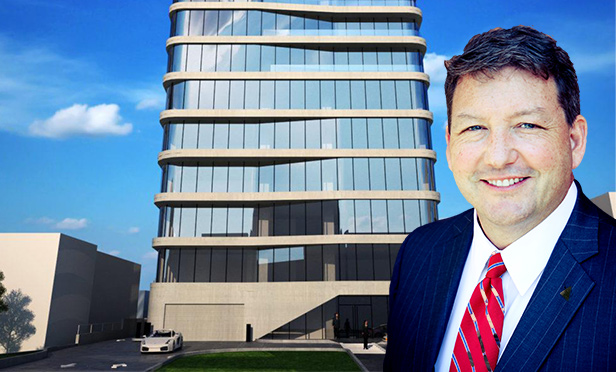 EAST ORANGE, NJ—Amboy Bank closed on a $33 million construction loan for Newark-based developer Blackstone 360 for its "Allure 260," the firm's fifth major development in East Orange, with a projected cost of $45 million. B-360 is expected to break ground on the luxury residential high rise at 260 S. Harrison Street in East Orange, New Jersey within a month.
The loan is the Amboy's third to B-360.
"Throughout our 130-year history as an independent bank, we have never lost sight of the fact that partnering with inventive and adept companies boosts our success and creates a positive impact across New Jersey," says Gregory Scharpf, president and CEO of Amboy Bank. "Together with B-360, we've been catalysts for transformative change in the City of East Orange."
Allure 260 will bring the developer's total investment in the city to approximately $150 million over the last decade. As previously reported by GlobeSt.com, Allure 260 is the largest construction project in the city to date by B-360, with 18 stories, 325,000 square feet, and 201 luxury residences.
Avison Young principal George Gnad brought Amboy Bank and B-360 together.
"We are pleased to have worked with both B-360 and Amboy Bank on this transaction," Gnad says. B-360 has already enhanced the East Orange skyline through the construction of its four previous luxury high rise properties, and Amboy Bank has more than lived up to their reputation as a lender that delivers tailored financing with favorable terms."
Ibrahim Hasan, managing member of B-360 agrees.
"Our relationship with Amboy Bank has been more like a partnership than a series of commercial transactions," Hasan says. "They saw the opportunity, believed in the vision and invested with us in the creation of a vibrant community. We've come a very long way together, and intend to strengthen that relationship as the year's progress."
With the addition of Allure 260, B-360 will have developed a portfolio of more than a million square feet comprised of more than 700 contemporary residences and more than 30,000 square feet of retail space. B-360 develops, owns, and manages its entire real estate portfolio, valued in excess of $200 million.
With the closing of this latest loan, Amboy Bank has supplied financing of approximately $85 million to B-360.