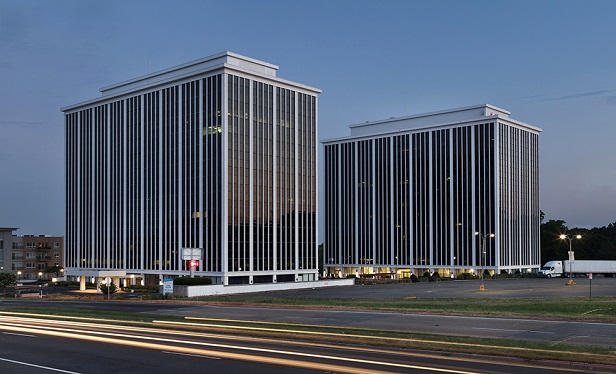 FALLS CHURCH, VA—BoundTrain Real Estate has made its first acquisition in the Washington, DC area: a two-building, 410,197-square-foot portfolio, located at 6400 and 6402 Arlington Blvd., for $38.1 million.
BoundTrain is a private real estate investment firm, founded by Michael A. Klein in 2018, to pursue value-add and opportunistic deals throughout the Washington, DC market, as well as select other markets in the Eastern US.
Newmark Knight Frank's James Cassidy and Jud Ryan and Cliff Cummings represented the seller, Falls Church Corporate Center LLC.
Ryan reports that the value-add profile generated significant interest from the investment community.
The two 13-story office towers are 73% leased. Located within the Seven Corners commercial district, the asset is one mile from I-66 and the East Falls Church Metro Station.
BoundTrain Founder and Managing Principal Michael Klein says the company has retained NKF to execute an aggressive leasing strategy that will reflect the company's renovation plans and marketing initiatives for the buildings. The firm plans to complete renovations to the common indoor and outdoor areas and will introduce spec suites.
NKF's Jeff Tarae, Dominic Orcino and Nina Moses have been hired to lease the buildings with marketing efforts led by Regional DC Marketing Director, Alicia Karr.
BoundTrain has retained Transwestern to manage the property.