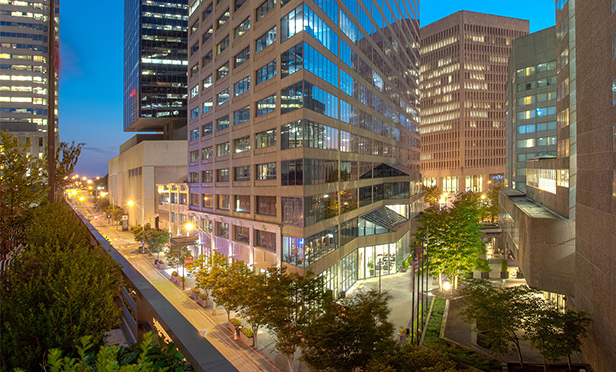 NASHVILLE, TN—Greenwich, CT-based Wheelock Street Capital has acquired Philips Plaza, a 435,535-square-foot, 24-floor office tower located at 414 Union Street in downtown Nashville, TN, from a joint venture of Switzerland-based Partners Group and Lingerfelt CommonWealth Partners, for a reported $111.5 million.
Michael Ryan, Brian Linnihan and Richard Henry of Cushman & Wakefield secured a $71.9 million acquisition loan on behalf of the buyer, and Stewart Calhoun, Samir Idris, Crews Johnston, David Meline and Hailey Paul of Cushman & Wakefield arranged the sale on behalf of the sellers, who were identified by Real Capital Analytics, a proprietary research database that tracks commercial real estate transactions. Real Capital Analytics also reported the sale price.
"Located in the heart of Nashville's Downtown submarket, Philips Plaza is surrounded by the walkable amenities and entertainment options today's office tenant are seeking," Linnihan says. "Supported by the metro area's strong demographic trends and a rapidly growing economy, Philips Plaza is poised for continued success."
Philips Plaza is 97% leased by 26 tenants. More than $3.5 million of capital improvements have been made at the property since 2015, including a new lobby, new HVAC, new roof, upgraded common area corridors and a state-of-the-art conference facility. The building shares a common plaza with a recently renovated Double Tree by Hilton hotel offering an outdoor patio/lounge with entertainment, a Starbucks Café, a full-service restaurant and valet parking.
Correction, 3/8/2019, 5:48 a.m.: An earlier version of this article did not attribute the source of the reported value of the deal. The estimate came from Real Capital Analytics.