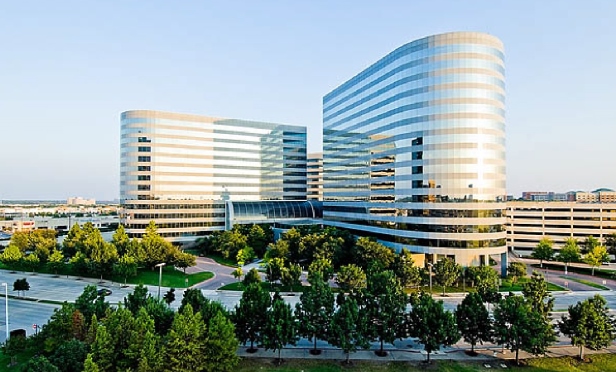 DALLAS—The Colonnade, a 1.07 million-square-foot three-building class-A office complex, is considered one of the premier developments along the Upper Tollway in the Dallas-Fort Worth metroplex. Since being acquired by Fortis Property Group in 2013, the Colonnade has remained in high occupancy with anchor tenants Hilton, United Surgical Partners, Zurich American Insurance, HQ Global Workplaces and Systemware.
EverWest Real Estate Investors, together with Korea-based investment clients, recently closed on a $63 million refinancing transaction for the property. EverWest executive vice president Tom McCahill, managing director Joe Chickey and senior associate for Structured Finance Zi Chong secured the five-year loan through UBS. The Korea-based clients were advised by EverWest and Paramount Advisory LLC.
"DFW office market fundamentals remain sound," McCahill tells GlobeSt.com. "The Colonnade is uniquely situated to benefit from not only favorable market dynamics but also organic growth from existing tenants like Google who are drawn to the building's central location and first-class amenities."
Built between 1983 and 1998–with $32.5 million in renovations completed between 2015 and 2017–the Colonnade includes three office towers, a three-story atrium and an eight-story parking garage. The property also includes a variety of dining options, fitness center with locker rooms, retail store and conference center. It is LEED-certified, Energy Star-rated and has earned multiple Building of the Year awards from the Building Owners and Managers Association.
"The Colonnade is a true trophy asset that has been meticulously owned and managed by an experienced institutional team," said Chong. "The capital improvements and leasing activity that have taken place here have established a strong leasing history, allowing the Colonnade to take full advantage of its premier location and area demographics."
The Colonnade is located on 13 acres along the Dallas North Tollway, offering quick access to metro Dallas and Fort Worth. It is two blocks east of the Addison transit center, which will become a future station along the Cotton Belt rail line.
"With these collective advantages in place, it is not surprising that the Colonnade has consistently outperformed its neighboring class-A office complexes," said McCahill. "We believe that trend will continue, and that the property will continue to hold its position as one of Dallas' top business centers."
EverWest launched its structured finance platform in 2013 under the direction of industry veterans McCahill and Chickey, with a focus on originating and managing mezzanine debt, preferred equity financing and B-notes for US commercial properties and developments. EverWest continues to actively seek new investment opportunities in major US markets.
During the fourth quarter 2018, vacancy in the DFW metro dropped to 19.7%, down 0.3% from the prior quarter. This tightening of vacancy was due in part to 899,500 square feet being absorbed during that quarter, which resulted from a surge in leasing activity in the third quarter, according to a report by Newmark Knight Frank.
However, fourth quarter leasing activity waned slightly, with less than 2.8 million square feet of activity. For the year, approximately 17.1 million square feet of space was leased. Meanwhile, the availability of sublease space has increased 8.8% since the third quarter and accounts for 3.7 million square feet of space on the market. Nonetheless, sublet vacancy is still a very small portion, 1.6%, of total vacancy in the market. Sublease and direct space asking rates both increased by 1.7% last year.
The price discount between direct asking and sublease asking was approximately 17% for the fourth quarter. Overall market rates for direct and sublease space are $26.11 and $21.70 per square foot, respectively, the report indicates.