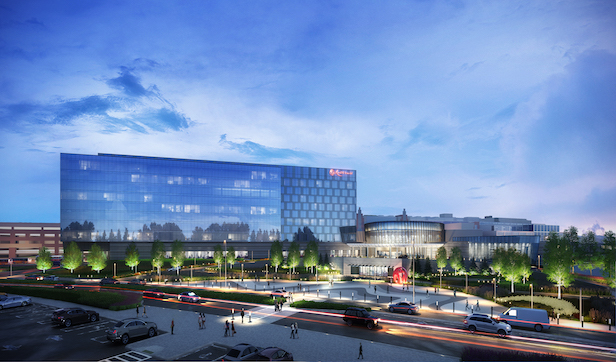 NEW YORK CITY—As construction continues on the $400-million expansion of the Resorts World Casino New York City in Jamaica, Queens, the ownership reports it has selected Plaza Construction as the lead construction manager for phase two of the expansion initiative.
Resorts World Casino broke ground on the project in July 2017. Construction on the nearly 500,000-square-foot expansion of the gaming facilities is expected to be completed in 2020. The first portion of the of the expansion is expected to open sometime this summer.
The expansion consists of a 10-story, 400 room four-star hotel with five-star suites, and a two-story grand entrance It will also include several new food and beverage venues, conference and meeting rooms, a high-tech fitness center and additional retail space.
Construction of the new hotel and additional gaming, dining and retail is underway. The project currently is supporting approximately 1,000 construction jobs.
"We are excited to work with Plaza Construction to bring to life our vision for an unrivaled entertainment and hospitality destination in Southeast Queens," says Scott Molina, president of Resorts World Casino New York City. "This new play, stay, dine and shop development will create good-paying jobs and generate significant revenue for our surrounding community and New York State. We are grateful to our local partners for their steadfast support as we prepare for phase two of our facility."
"Plaza Construction is proud to be contributing to the vibrancy of the Queens community with a newly expanded Resorts World New York City," says Richard Wood, Plaza Construction CEO. "Our expertise as builders of luxury residential properties and world class hotels will be utilized in the construction of this new unparalleled gaming facility, the only one of its kind located in New York City."
In addition to Plaza Construction as Construction Manager, Perkins Eastman is the architectural firm for the project, while Cosentini Associates is overseeing structural engineering. Resorts World Casino New York City will remain open during the entirety of the construction project with limited construction disruption.
Resorts World Casino New York City, operated by the Genting Group, accommodates approximately 10 million guests each year, while generating more than $2 billion for the New York State's education system since opening in 2011.
Plaza Construction, since 1986, the firm has helped build corporate headquarters, commercial properties, healthcare centers, universities, infrastructure, transportation facilities, museums, retail spaces, hospitality and residential buildings. Among some of its more notable projects include: One Thousand Museum, The Four Seasons Restaurant, 55 Water St., MTA Fulton Center, Brooklyn Navy Yard, 11 Times Square, and the CCRA-MA railway assembly factory. In addition to its New York City headquarters, the firm maintains regional operations in New Jersey, Miami, Tampa and Washington DC. Plaza Construction is owned by China Construction America, a US subsidiary of China State Construction Engineering Corp., one of the world's largest construction companies.
The gaming landscape in the New York City region has become more competitive with the opening of the $1.3-billion Resorts World Catskills Casino in the Town of Thompson in Sullivan County, NY, a full gaming property, which opened in 2018 and the $850-million purchase of the Empire City Casino in Yonkers by MGM Resorts International and MGM Growth Properties LLC.