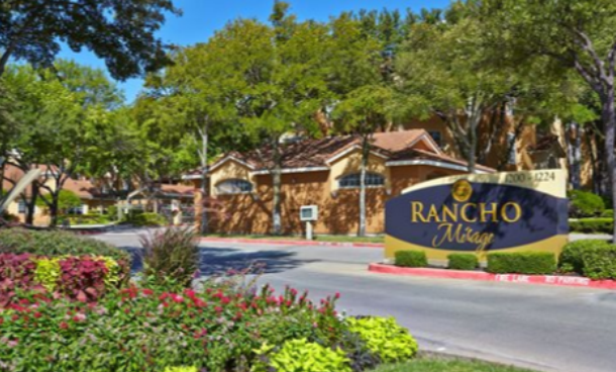 IRVING, TX—According to Fannie Mae, the apartment supply in the Dallas/Fort Worth metro area should continue to thrive. As of year-end 2018, there were nearly 29,000 units in the planning stages and an additional 24,000 units underway. However, the added growth should not present much of an issue due to several demand drivers.
According to CoStar, the prime renter cohort (ages 20-34) is expected to expand by 9% through 2022. The young demographic, healthy economy and strong job growth should continue to keep demand high during that time period.
An example of one property staying in high renter demand is Rancho Mirage, a 310-unit multifamily property located at 1200 Hidden Ridge in the Las Colinas master-planned community east of DFW International Airport. The owner originally acquired the asset in early 2017 and since then, spent $2 million in property improvements overhauling the community amenity package and renovating roughly half of the unit interiors, GlobeSt.com learns.
Brett Hood, senior vice president of NorthMarq's Chicago-based regional office, subsequently facilitated $30.7 million in permanent financing to recapitalize the asset. The seven year fixed-rate loan was structured with three years interest-only (followed by a 30-year amortization cycle) with par prepayment during the final two years of the loan term. NorthMarq arranged financing on behalf of a repeat borrower through its Freddie Mac Optigo seller/servicer relationship.
The nature of Freddie Mac's conventional fixed rate program allowed the sponsor to retire its existing ARM debt without incurring a prepayment/exit fee, completely eliminated interest rate risk during the loan term and significantly increased the sponsor's projected returns through extended interest only and reduced coupon rate, Hood says.
"Freddie Mac once again provided a terrific execution. The sponsor not only achieved the targeted financial objectives, but experienced a very efficient and flexible process," Hood tells GlobeSt.com. "The transaction originally went under application assuming an ARM execution. The sponsor ultimately flipped to a fixed-rate structure midway through the process, given dropping Treasury yields and Freddie fixed-rate credit spreads. The sponsor was able to index-lock the Treasury yield at a moment's notice and ultimately closed the loan after a mere 38-day timeline from start to finish."
Originally developed in 1990, the property has 9-foot ceilings, wood burning fire places, walk-in closets and crown molding. The clubhouse/leasing office is newly remodeled, and the resident lounge has a billiards table and kitchen, lounge pool, 24-hour fitness facility, indoor racquetball court, gas barbecue grills, on-site laundry and covered parking.
As of September 2017, employment in Dallas expanded by 3.9%, more than double the national rate of 1.7% and it also accounts for nearly 8% of all the financial services jobs in the Southwestern region. Moody's Analytics attributes the financial services industry's emergence to the exceptional performance of the housing market and the high-profile relocations of employers such as State Farm, Liberty Mutual and Toyota, among others.